Petrale Sole (aka California Sole)
Eopsetta jordani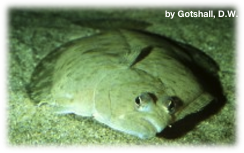 Another flatfish that calls the eastern Pacific home is the petrale sole. It has both eyes on the right side of its head and is common in depths around 500 feet deep.  Juvenile and adult petrale sole live in sand and mud bottoms, while the larvae are found near the surface.  They spawn from October to March in California and females can produce up to 1.5 million eggs depending on their size. The eggs are fertilized externally when the males and females release the sperm and eggs into the water column. They have a short 6 month larvae phase before becoming adults and settling on the seabed. This fish has a large mouth and is a voracious carnivore, eating primarily small crustaceans, as well as small fish. Some adults have been known to be cannibalistic, sometimes eating large numbers of juveniles. Petrale sole represents an important fishery for the U.S. West Coast, with catches exceeding 4,000 tons per year.
Lifespan: Max is 35 years
Size: 1.5-2 feet and 72 lbs
Distribution: Found at 330-500 ft depth
How fished: Trawling and long line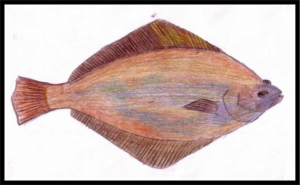 Why sustainable: Populations are currently recovering due to stricter regulations and intensive management.

MBA Seafood Watch Rating: Good Alternative
NOAA FishWatch Rating: Declared overfished in 2009, the West Coast petrale sole stock is now rebuilding under strict harvest limits.
Nutrition (per 100g): Calories 91, Total Fat 1.18g, Total Protein 18.8g, Omega-3 0.2g, Cholesterol 48mg, Sodium 81mg
Photo by Gotshall, D.W.