American Abalone Farms                Ken Miller
Deyerle Brothers                                Monterey Abalone Co.
Stan Bruno                                           Jiri Nozicka
Ron Farquhar                                       "Scott" and "Ollie"
Jerry Foster                                          Brett Shaw
Ernie Koepf                                          Keith Walker
Dave Kubo and Del                            Chris Zajac
John Hulliger                                       Tuk Yi
Tony Nguyen
---

John Hulliger - Dungeness crab and salmon fisherman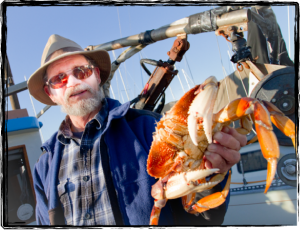 John knew at a young age he was going to be a fisherman. He started fishing on the East Coast with his grandfather.  Not only did John love being out on the ocean, but he never got seasick: it was in his blood.  When John decided to move to California in search of better weather, he packed up his surfboards, drove across the country, and landed in Pacific Grove. John worked as a painter, fiberglass repairman, and marine equipment mechanic until he was able to afford his boat, Gayle, in 1992. John has been fishing for 25 years. When asked why he started crabbing he responded, "I started crabbing so that I could eat the best crab."
John's son, Aaron, started fishing with him four years ago. John convinced Aaron to start fishing by telling him, "crabbing will make you strong."  How strong you might ask?  Aaron is now a world-class weight lifter and currently holds a number of world records in his division!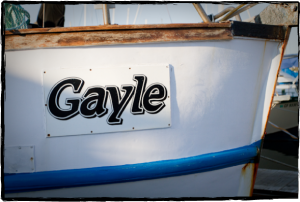 John fishes because it makes him happy, but in recent years he has seen dramatic changes in the fishery that continue to threaten his livelihood.  The cost of fuel, roughly 25% of his expenses, continues to rise.  "When I bought this boat the price of fuel was less than a dollar per gallon; now it's three to four times more."  Furthermore, as other fisheries become less economically viable and demand for Dungeness crab grows, the number of competing fisherman in the Dungeness fishery continues to increase. "Regulation is necessary; I have always regulated myself in this fishery. If we want to continue to be a sustainable fishery we need to make sure there aren't too many traps in the water."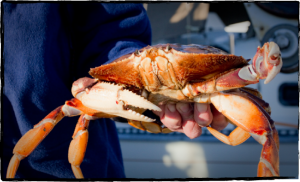 John loves crab. "There is nothing like a crab omelet: egg, cheese, and crab, that's it." He prides himself in catching healthier, larger and more delicious crab from parts of the Bay that only a select number of fishermen know about, making him an outstanding source for Dungeness in the Bay.
When not out on Monterey Bay, John and his boat Gayle can be found on dock "B" in Moss Landing.
---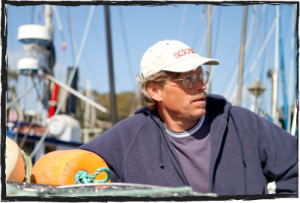 Christian Zajac is originally from Rome, Italy.  Both his parents are artists and they moved to the States when he was a child.  Chris' father used to teach sculpture at UCSC and unsurprisingly, Chris studied art at UCSC along with marine biology.  He decided being an artist was "a tough order of business these days."  As a result he followed his other passion, fishing.  "Instead of going to school and hating fishing, I ended up going to school and loving fishing… I use a lot of the knowledge and information I gained from my marine biology classes when I'm out on the water."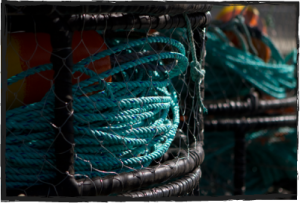 Chris has been fishing for 30 years mostly as a rock cod and black cod fishermen.   Like many other fishermen, he recently got into crabbing because of decreased access to rock cod and black fishing grounds, but he says "the crabbing has been really good."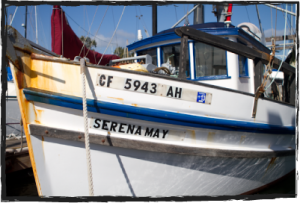 F/V Serena May is Chris' third boat, a 1932 Monterey wood hull built for Jo Dimaggio's father who tried to get his sons into fishing: they preferred playing baseball instead.  When they aren't fishing Chris and the Serena May can be found in Santa Cruz harbor at dock R.
To learn more about how Chris catches crab, check out this short video.
---

Ernie Koepf – Pacific herring fisherman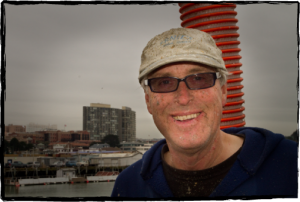 Ernie Koepf has been fishing commercially for Pacific herring for over 35 years.  Ernie joined the fishery at the same time as a bunch of other novice herring fishermen.  They bought a few nets, got everything all tangled up the first few days, and eventually taught themselves how to catch herring in San Francisco Bay "without killing ourselves!"
The herring season is short and sweet: "My place in the world in January and February is on San Francisco Bay on this boat.  That is what defines me. You can get money anywhere. Money is cheap. Money is banal. You can't get the experience that I get quite so easily."  Ernie attributes recent swings in the herring population – the 2008-2009 season was cancelled for the first time in history, but this year is looking like the best since 1997 – to a lack of fresh water reaching the Bay Delta, which is critical to the survival of young of the year herring.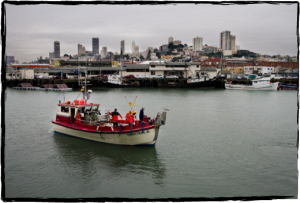 Ernie would not persist in this fishery if money were the only reward.  As diesel prices have soared, herring prices have fallen from over $3000 a ton in 1995 to less than $700 a ton today.  This is largely due to reduced demand in Japan for kazunoko (herring roe), a delicacy given as gifts during the New Year's season which has at times fetched prices of over $50 a pound.  There were over 100 herring boats working San Francisco Bay in the late 1990s; Ernie is now one of less than 20 still fishing, and one of only 10 to be granted a permit by the California Department of Fish and Game this year to sell whole herring locally on the fresh fish market.  "There's hardly any young guys in any of the fisheries now… they're all pushing 60, or older. The financial incentive has left, so it's not drawing people into the fishery," Ernie explains.
Ernie recognizes that few people realize that San Francisco Bay remains a thriving natural system: "I'll take people who have never been out on San Francisco Bay out fishing with me… the boat will be loaded with fish and there's sea gulls and there's sea lions, there's herring milk in the water, sperm in the water and it smells… fishy.  This sort of feeling overcomes everybody where now time ceases to be important, now it's just tide, it's just all tide and current.  And they'll say, 'man I had no idea, I had no idea all this was going on out here.'"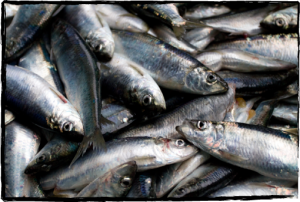 Ernie is working with other local fisherman to stimulate a consumer demand for herring in the Bay Area.  "I'm aware of the growing demand for organic, local, healthy food."  He hopes that herring will take its place alongside other local seafood products.  "I've eaten it smoked, I've eaten it grilled, I've had it salted, I've had it pickled. It's a good fish."  Ernie and his boat the Ursula B. can be found in January and February plying the waters under the Bay Bridge and just yards off the Embarcadero.
---
"Scott" and "Ollie" - Rockfish, salmon, crab, albacore tuna, California halibut, and white seabass fishermen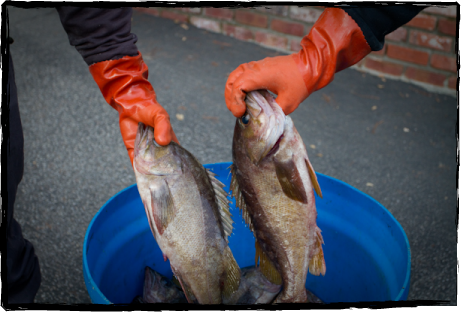 Some fishermen prefer to remain anonymous.  Although we would prefer it if you could know exactly who they are, they have some of the freshest fish we can get and we respect their wishes.  They are based out of Santa Cruz and work together using hook and line methods on the same small boat.
LCMB:  How long have you been fishing for?
"Scott":  For 12 years, commercially.  I fish for albacore, salmon, crab, rock cod – basically anything I can get a permit for.  I started by working on a squid boat and eventually I bought my own boat when I was 18.  It's a small 17 foot center console with a 75 horsepower outboard.
LCMB:  Why did you start fishing?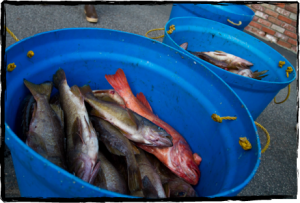 "Ollie":  I don't really like dealing with people all that much.  I'd rather be alone on the water. There are no speed limits on the water, you're free.  If I had it my way I wouldn't come to shore – except for beer.
LCMB:  What is tough about being a fisherman?
"Ollie":  Paying the bills and finding good, reliable fish buyers that don't haggle you too much.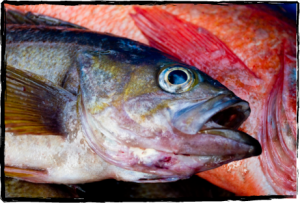 LCMB: Do you want to tell our customers anything?

"Scott":  Don't buy fish from grocery stores.  Get fish as fresh as you can from a buyer who is always moving fish constantly and never sitting on it.  I don't want to be famous.  I'm just a simple fishermen who cares about catching high quality sustainable fish. If I can do that and make a living then I'm happy.
---

Stan Bruno - Black cod and salmon fisherman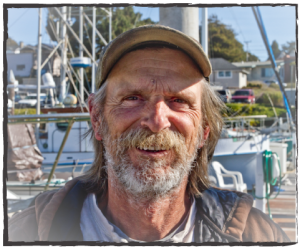 Stan Bruno is a long time salmon fisherman who just recently started fishing for black cod. "I figured, rather than leaving my boat at the dock all winter collecting algae on the bottom, I would take her out to fish for black cod." Stan's boat The Anchor Steam is docked in Santa Cruz harbor.  Stan and his buddy, Dr. John Calaprice,  a marine biologist, purchased the boat only 4 months ago with an agreement that Stan would use it to fish and John would use it for research.
Stan has always made his living working outdoors. For many years Stan complimented his fishing career in the off season by guiding hunts for big game like elk and working on the fire crew for the US Forest Service.  Why does Stan like working on the water?  "Everyday you are learning, everyday is different. The ocean, weather and fish are always changing and you have to be able to constantly learn and adapt."  Stan's recent endeavor as a black cod fisherman is a great example.  Since buying The Anchor Steam he's only gone fishing for black cod five times. Since we met him, it's taken him a few trips to learn where and how to get sufficient amounts of fish to supply LCMB's members. He attributes his recent success to some very valuable coordinates handed down to him from a recently retired black cod fisherman.  For many fishermen, knowledge of the best spots is the most valuable thing you can have other than a boat or permit.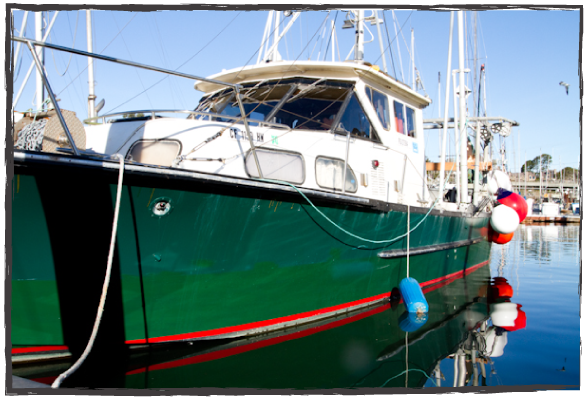 When asked about fishing sustainably Stan replied, "Any good hunter or fisherman doesn't over harvest because they want to continue to go back to the area they hunt or fish. If hunting or fishing is their life, it's in their interest to harvest responsibly. The problem we are facing is that younger generations are not interested in becoming fishermen. To get sustainable fish we need to have new fishermen fishing sustainably. My deck hand is in his twenties, loves to fish, but he won't buy his own boat. It's the same everywhere; if you walk down to the docks all you see are 50-70 year old fishermen and they won't be fishing forever."
Stan takes very good care of his fish, which is why the freshness and flavor can't be beat. "When the fish comes on board, we immediately throw it in the hold full of saltwater and ice. This keeps the fish at a 31 degree core temperature." Stan's favorite way to cook black cod is smoke it. "I have given people who don't like fish or seafood a piece of my smoked black cod and they love it. I call it fish candy."
To learn more about how Stan longlines for black cod, watch this 4-minute video documenting a typical day (Feb. 5, 2012) on board The Anchor Steam.
---
Brett Shaw, Dungeness crab, albacore, and white seabass fisherman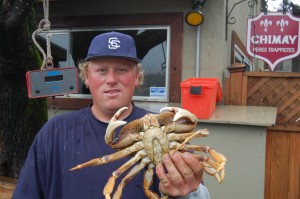 Brett Shaw explains that he got into fishing because "I hit my head and somehow stumbled into it."  But in reality the story is longer than that.  Brett grew up in the Pleasure Point neighborhood of Santa Cruz and entered the world of fishing at a very early age.  At 13, he was helping out on the Santa Cruz fuel docks and scrubbing the decks of party fishing boats. Soon after, he set up an entrepreneurial enterprise filleting fish for recreational fishermen when they came back at the end of the day.  Things progressed from there, and Brett spent five years working up and down the West Coast from Southern California to Oregon on albacore tuna boats, often spending weeks at sea at a time.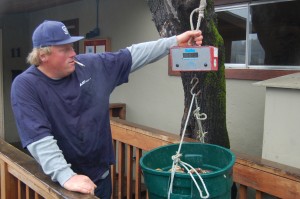 Three years ago, Brett purchased his own boat, the F/V Tricia Ann.  Built in 1980 in Moss Landing, the boat was configured as a salmon troller, but Brett reconfigured it for crabbing.  Brett likes crabbing partly due to the reliability of the fishery.  Dungeness crab in California is a very well-managed species that in recent years has not been subject to the massive unpredictability of other species like salmon.  On top of that, Brett doesn't have to deal much with bycatch issues and likes setting and pulling crab pots because he's always doing something: "You're always moving – it's not like sitting around waiting for a fish to bite a line – there's nothing worse than that!"  Brett definitely enjoys hard work and we were impressed by his strength as he easily hoisted 100+lb barrels of live crab onto Greg Young's scale for weighing at Sandabs Seafood & Winebar (see photo).  Brett considers himself less of a "people person" and the best thing for him about crabbing is that "you can't beat the stress level – no one is telling you what to do."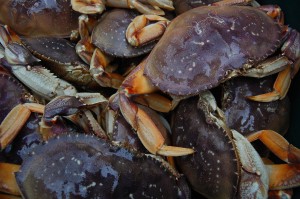 Brett currently (March 2012) has 110 crab pots set, all in shallower waters just outside the mouth of Santa Cruz Harbor.  By keeping them close to shore, he can make the rounds to all his pots over the course of a morning.  He also minimizes the chance of negative interactions with other fishing gears that are used in deeper waters.  We are excited to buy Dungeness crab from a younger fisherman like Brett who has a deep understanding of the fishery and practices sustainable methods.
---
Jerry Foster, Salmon and albacore fisherman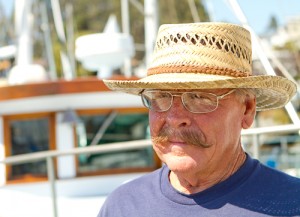 A native of Hollywood who then moved with his family to Porterville, Jerry Foster has had a rich and interesting life in which fishing has long played an important role.  Currently 72 years old in 2012, Jerry is a veteran who served in the US Army in Korea.  After that, in 1962 he began a 38 year career as a plasterer, living and working in the Bay Area.  He started fishing in Santa Cruz in the 1970s with the guy who owned the Marie Therese at that time, a 27′ wooden fishing vessel built in 1925 that is still iconic in Santa Cruz Harbor today.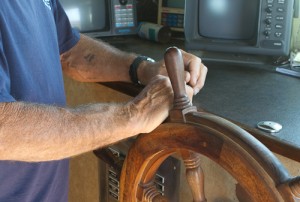 Jerry first bought his own fishing boat in 1975, and has owned his current vessel, the Godfather, for the past 20 years.  The Godfather was an old Navy launch which was used for troop transport.  Jerry set about doing all the work on the boat himself to modify it for fishing purposes, from doing all the bright work to working on the fiberglass hull to installing fish holds.  He has mainly fished for salmon and albacore out of Santa Cruz, both of which he finds to be fun and rewarding species to target.  He's seen his share of 25 lb, 30 lb, and even 45 lb fish that have broken his jigs off and created memories he'll never forget.  The earliest that Jerry recalls albacore showing up in our local waters is around the 1st of July.  When the water is flat calm, you can see them jumping in the distance.  The real key to pinpointing their locations though is to look for where within a short distance there is a break in the water temperature in the 57-63 degree range.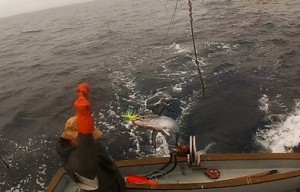 2012 has been a great season for Jerry so far, and he looks forward to more time on the water before overwintering in Palm Springs, as he has for the past few years.  Jerry has volunteered to take the LCMB GoPro camera out with him on some recent albacore trips, and we'll be sharing some of his footage with members soon.
---
Ron Farquhar, Salmon, halibut, white seabass, and albacore fisherman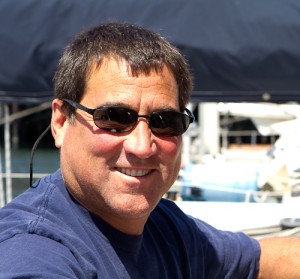 Ron Farquhar started fishing about ten years ago, around 2002.  Originally from San Francisco, a love of scuba diving brought him south to Monterey.  Like many fishermen, he gradually eased his way into work as a commercial fisherman.  In Ron's case, a long "career" of personal spearfishing was his entry point.  Next, Ron started working on charter fishing boats, and started his own business, Westwind Charter Sport Fishing & Excursions.  The Westwind is a 31′ Island Hopper that calls Moss Landing its home port.  Ron now fishes commercially when salmon, halibut, albacore tuna, and white seabass are in season – generally from May to November.  Throughout his work in fishing, the intimate knowledge of underwater "structure" (topography) he gained during his spearfishing and diving days has helped him to understand where to look for fish.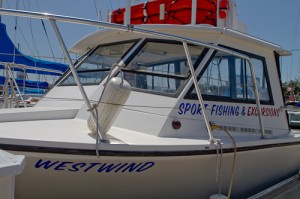 Ron particularly enjoys fishing for white seabass and albacore since there's so much excitement involved.  The closure of the salmon seasons in 2008 and 2009 were tough, and adjusting to the rapid increase in area closures for MPAs has been difficult as well.  Other challenges include occasional flooding of the market (leading to price drops), and fuel costs.  Ron tries to take advantage of fish closer to shore when possible to keep fuel costs down.  Being able to sell to local buyers is a highlight of fishing for Ron, and he likes to know his local community is enjoying his catch.  One of the most rewarding aspects of spending time on the ocean is seeing whales and dolphins, and being able to track schools of fish by watching birds feeding – it's like witnessing the entire environmental cycle.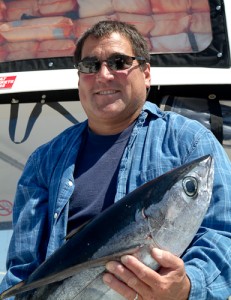 When not fishing, Ron works for the City of Monterey as a Security Worker for MontereyHarbor.  In the course of patrolling the marina and wharf areas and checking on boats and moorings, Ron enjoys the people and hearing stories from people around the world.  He also is able to keep a close eye on the types of fish being brought in by other fishermen on a daily basis.  We're glad to have started buying fish from Ron and wish him continued success!
---
Jiri Nozicka - Rockfish, sablefish, and petrale sole fisherman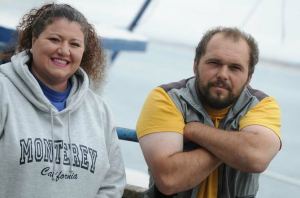 Jiri is one of the first fishermen to have expressed interest in Local Catch when we first started thinking about the potential for a Monterey Bay CSF.  He's a politically active member of the fishing community with a strong voice who is dedicated to his work no matter what obstacles may come in his way.
Jiri's story is an unusual one.  He was born in the (quite land-locked) Czech Republic, where he lived until 1997.  He arrived in Monterey looking for opportunity in 1999, and took a job on a fishing boat.  Before long, he met Elizabeth Pennisi, the daughter of Guiseppe Pennisi and part of a longstanding Monterey fishing family.  A whirlwind romance and a beautiful traditional Italian wedding ensued, and today the Pennisi-Nozickas have three young children.
Jiri loves being out on the ocean, surrounded by beauty. He enjoys the challenge of commercial fishing, and the lack of routine. Over the years, he has fished on the Pennisi family boats, trawling in Monterey and gillnetting salmon in Bristol Bay.  In 2007, Jiri and Elizabeth founded People United for American Commercial Fisheries (PUACF), "a voluntary group consisting of fishermen, scientists, local community leaders and citizens who share the same concern: the future of our commercial fishing industry and the communities closely and historically tied to fishing."  In August 2011, PUACF organized a Fishermen's Days dinner that benefitted the future construction of a monument to fishermen lost at sea.  Jiri's brother-in-law David "Rowdy" Pennisi lost his life while at sea fishing.
Jiri also represents the Monterey fishing community by serving as an alternate on the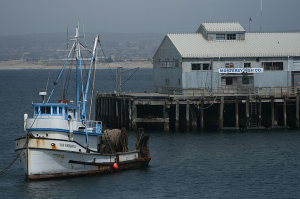 Monterey Bay National Marine Sanctuary Advisory Council.  Jiri is co-skipper of the Pennisi family's F/V San Giovanni, a 60-foot wooden trawler built in Oregon in 1948 by Neil Barton. When the family acquired the vessel in 1959, they renamed it in honor of Elizabeth's grandfather, Giovanni Pennisi. When it's not out fishing, you can find the San Giovanni tied up by Royal Seafoods at the end of Wharf 2 in Monterey.
---
Keith Walker - Rockfish, sablefish, Dover sole and petrale sole fisherman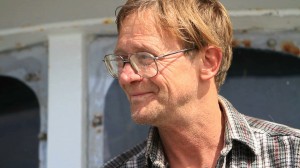 Keith Walker started fishing in the Ventura area over 30 years ago.  Working as a truck engine mechanic, it wasn't long before his services were called upon in Ventura andChannel Islands Harbors.  For Keith, fishing became a natural extension of repairing boat engines, and before long he was "hooked."  Keith has spent the rest of his life fishing.  He has been full-time captain of the vessel Capt. John in Moss Landing harbor since 2000.  When the weather is good, the boat makes 1 or 2 fishing trips each week, each about 48 hours in duration.  When not at sea, Keith lives on board the Capt. John in the harbor with his two cats, occasionally drying himself out at his house in Las Vegas.
Keith has seen many changes in California fishing over the years.  Ten years ago, he recalls between 8-12 trawl vessels fishing out of Moss Landing alone.  These days, the Capt. John is the only trawl boat remaining in the harbor, and one of the only ones in Monterey Bay.  One thing that hasn't seemed to change is the abundance of fish.  Even before the advent GPS, Keith would return to the exact same areas each week to make his tows, and every week these areas have continued to provide abundant quantities of fish.  As most of Monterey Bay itself is closed to trawling, Keith's fishing trips usually take him either offshore of Davenport or Big Sur.  "It gets lonely out there with no other boats to talk to on the radio anymore," he told us.  "It's nice to have some conversation!"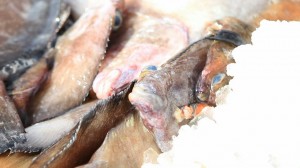 Keith loves being at sea and enjoys the freedom of not being tied to a 9 to 5.  In an average year, he supports himself as a fisherman by working only 60 days a year. Keith usually sells his fish to the Deyerle brothers of Sea Harvest fame and receives what he feels is a very fair price.  He proudly states that he is "the highest paid dragger on the West Coast."  Keith is a warm and friendly guy who is happy to have some of his fish stay local this week in LCMB member households – the majority of what he catches is otherwise exported.  Meet Keith and tour the Capt. John in this video, filmed on April 9, 2012.
---
Monterey Abalone Company - Abalone growers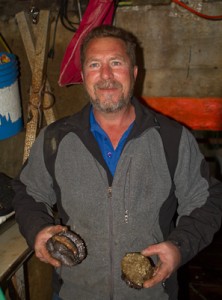 Monterey Abalone Co. is a partnership between Art Seavey and Trevor Fay, pictured at left.  Art and Trevor operate Monterey Abalone Company underneath the far end of Wharf #2 in Monterey, where the cultivate red abalone in the actual waters of Monterey Bay.  The abalone are grown in cages that are suspended in the water column (see photo below), providing essentially natural surge, temperature, and light conditions for the animals.  Trevor and Art are directly involved in the harvest of giant kelp (Macrocystis pyrifera) from the kelp beds off Cannery Row and Pacific Grove, and feed their abalone every week.  The abalone you will receive are about 4 years old – they grow up to an inch a year – meaning that Trevor and Art have supervised the feeding of your abalone about 200 times!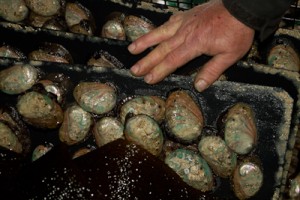 Art has an MS degree in Ecology and has raised salmon in Oregon and shrimp in Ecuador, while Trevor has a background in scientific collecting and marine technology.
Monterey Abalone Co. was featured on Discovery Channel's Dirty Jobs TV show.  Watch the video series here: intro, kelp harvesting, ab body parts, ab feeding, and finally tasting!  From the MAC website: Prior to the arrival of the Monterey Abalone Company [in 1994], the area below the wharf had never been utilized.  Now it is an innovative, successful, environmentally-sound work space that generates a number of jobs while producing some of the finest abalone for resorts, restaurants, and individuals across the United States.  Learn more at www.montereyabalone.com.
---
American Abalone Farms - Abalone growers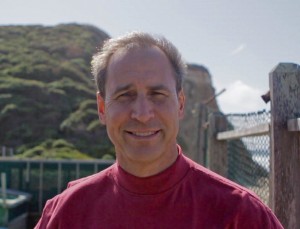 American Abalone Farms is located just north of Santa Cruz in Davenport.  Formerly called US Abalone, it has been in operation for about 20 years and is now under the leadership of Tom Ebert.  They grow red abalone in tanks in a land-based facility that continuously pumps in clean, fresh seawater (much like the Monterey Bay Aquarium does).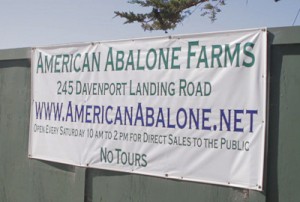 American Abalone has their own hatchery that produces their baby abalone.  When the abalone are about one year old (about an inch in size) they are transferred from the hatchery to bigger tanks, and are further nourished on giant kelp harvested from northern Monterey Bay.  While Monterey Abalone Co. only sells live abalone, Amercian Abalone sells both live abalone and tenderized abalone steaks, which make for a great "first time" product for abalone amateurs.  Tom is currently investigating the potential to have the farm powered by renewable wind energy.  As the pictured sign indicates, American Abalone Farms is unable to offer tours, but we take you on one and introduce you to Tom in this video!  Learn more at www.americanabalone.net.
---
Dave Kubo and Del – Salmon fishermen
Dave Kubo used to be a portabello mushroom farmer.  Last year, after passing the torch of his mushroom operation to his son-in-law, he decided he would pursue his interest in commercial salmon fishing. Having been a recreational salmon fisherman for many years he knew it was going to be a substantial leap to go commercial. Through a golfing friend he met Del, a retired fisherman with 35 years of experience, enthusiastic to teach him the trade.
Del's experience is in salmon, albacore tuna, and rockfish. He has always been a Santa Cruz-based fisherman. After many years of fishing his 26′ boat Del-Lori III, he began to see substantial changes in the fishing industry.  In 2004, as an effort to adapt, he decided to build his dreamboat: something smaller, unique, capable of fishing more in tune with the seasons and areas of opportunity; more than anything it was going to be a boat designed by his decades of experience.  As concern over the health of our salmon stocks became more and more apparent, the fishery was shut down for several years. Del's dreamboat was never built and shortly after he retired.
Dave came to Del to specifically learn how to rig his recreational boat for the long hours, brutal conditions, and unrelenting abuses of commercial fishing. Now they fish together: Dave captains the boat, Del knows where and how to fish. Del tells us: "One day Dave will have the know how. He is learning quickly, but until then I am teaching him where to fish, how to catch them, what lures to rig, and how deep to fish. Until he learns those things I'll be working on that boat. Dave is a go-getter, that is why I enjoy fishing with him."
According to Del, last year was a brutal year for salmon fishing. Although this year got off to a slow start, it has picked up.  I asked him what he will be doing this June when the salmon season takes a several week hiatus, he said "Taking care of myself, addressing some health issues, and taking advantage of the down time to fix some things on the boat.  Some things get neglected when the bite is on!"
---
The Deyerle Brothers - Sablefish and rockfish fishermen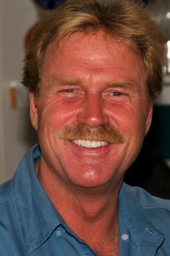 Daniel, David (pictured at left) and Richard Deyerle are brothers. They fish together and run three Sea Harvest locations (Moss Landing, Monterey, and Carmel), each featuring a fish market and restaurant that offer local products as available.  In addition to running Sea Harvest and fishing themselves, they also buy from other boats in Moss Landing and are involved in the wholesale seafood business. To many in the industry they are known as "The Golden Boys" (all are blond), a nickname given to them by Anthony Tringali of Monterey Fish Company back in 1985.
The brothers grew up in Pacific Grove and began fishing while in high school. Their father was in the military, making them first generation fishermen. As they progressed and got better at fishing they decided they would make a business out of it.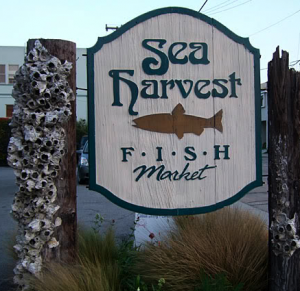 "It was tough getting in the industry" Daniel told us.  "I remember trying to sell our fish to Old General Fish Co. and we'd show up with our fish and they would throw it off the dock. Old General Fish Co. is no longer around, but at the time, it was tough trying to sell our fish which is why we decided to go into business ourselves." They began by putting advertisements in the newspapers advertising fresh fish and today distribute their catch to the Sea Harvest Restaurants and Fish Markets… and now to Local Catch Monterey Bay.
The brothers specialize in catching sablefish, rockfish such as gopher rockfish and blackgill, and also supply the live fish market. Fishing is becoming ingrained in the family, as Richard's son Calder is now a crabber in addition to being a ridiculously good surfer (check out this video).  We're glad that the Deyerles are interested in helping LCMB become successful!
---
Ken Miller - Sablefish, dungeness crab, and rockfish fisherman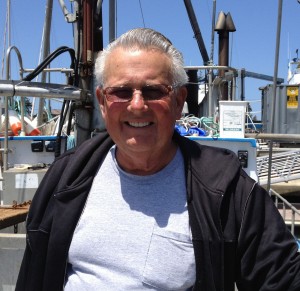 Santa Cruz fisherman Ken Miller has been on both sides of the receiving dock – he's been a commercial fisherman off and on for almost 20 years, and also a seafood wholesaler and buyer. A California native, Ken's family spent much of their leisure time fishing. This hobby eventually led to an interest in selling fish to support his growing family. Ken fished commercially out of Santa Cruz harbor during the late 1960s, then went back to work on land running a butcher shop and eventually getting into the seafood sales business. For many years he ran the meat department at Santa Cruz's Staff of Life grocery store. In 2000 he was able to get back on the water and fished salmon, crab, albacore, rockfish, sablefish and even coonstripe shrimp. His preference is to stay within Monterey Bay, close to home. He knows many great fishing spots and presently fishes for crab in the winter/spring and sablefish and rockfish during other seasons.
Ken named his first boat after his favorite crew member, his wife Linda. His son Shane, one of four children, also got into fishing at one time. When asked what he likes most about commercial fishing, Ken said it was the independence of it all.  Ken's come full circle – fishing is where he started his work, and now fishing on the F/V Pacific Rose is his 'retirement job'.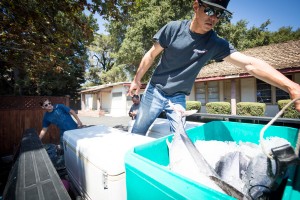 Tuk Yi – Sanddabs, rockfish, halibut, white seabass, salmon, and albacore fisherman
Tuck caught his first rockfish with his dad when he was 8 years old. Growing up they would recreationally fish on their 15ft aluminum boat almost every weekend; he was hooked so to speak. This was no surprise given his fathers experience growing up in Korea free diving and spearfishing to make a living. When Tuck turned 16 years old his father bought a bigger boat and they both decided to start commercial fishing. Tuck is currently a part-time commercial fisherman that fishes between three and seven days a week out of Monterey, Moss Landing, and Santa Cruz, depending on the season. His other part-time job is working as an auto mechanic which he enjoys immensely as well, allowing him to pursue his hobby and passion for racing cars.
Tuck enjoys being a commercial fishermen because he gets to be out on the water in the early morning and gets to do something he really enjoys. In addition every day is different. "I love waking up everyday excited, looking forward to the day."
When asked about the challenges of commercial fishing he pointed out all the work involved with fishing, beyond catching the fish. "Where to fish, weather, wind, currents, and ultimately making the right decisions is tough. In addition when you get out of the groove of fishing it can be tough to get back into the routine."
Tuck's favorite fish is sea bass, seared on both sides and baked to cook through. His favorite way to cook sanddabs is to simply pan fry one side with light oil, then sprinkle bits of crispy bacon on the uncooked side and flip it and cook that side until done. YUM!
Tony Nguyen - Rockfish, halibut, salmon, and sablefish fisherman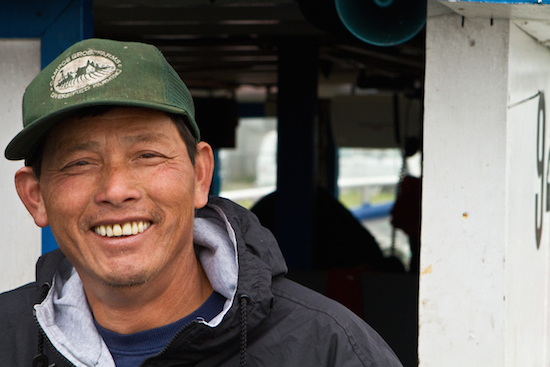 15 years ago when Tony moved to the Monterey Bay area he had never stepped foot on a fishing boat. In fact Tony's daughter bought him his boat, the Eagle, so that he could become a fisherman and leave his job of 17 years as a welder for the Navy. For 3 years Tony taught himself how to fish making no money until, he says "finally learned how to catch fish and be a real commercial fisherman" Since then Tony has been following the tides, fish, bait, water temperature, wind, moon, weather, seasons with eight years of data that help him predict where and when the fish will be. A remarkable amount of information to be tracking!
Getting a tour of the F/V Eagle Jr. Tony shared with us his simple but formidable galley: full range camping stove, high quality old steel knives like they used to make, warn out cutting board, "well seasoned" pots and pans, shelves and drawers stocked with an assortment of spices, sauces, and ingredients far beyond what most of us stock in our full sized kitchens at home. I asked him what his favorite fish was and he rather quickly responded "I love eating all fish" and with little encouragement we spent 30 minutes discussing his favorite recipes.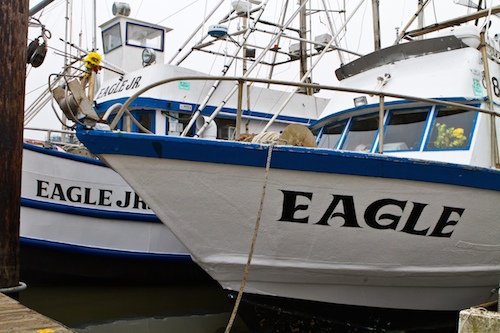 When asked his favorite thing about fishing he said he "likes working hard and problem solving because (he) has to know everything; taking care of the boat, understanding regulations, taking care of the fish, that includes fixing all the problems on the boat myself"
Tony, 55, has one daughter and four sons. When he's not busy as a father he fishes year round, depending on the season he usually fishing sablefish (black cod), grenadier, salmon, rockfish, Dungeness crab. At the time of the interview he was outfitting his boat to fish halibut.
His take home for our members: "Cold water fish are the best because they have firmer more flavorful meat. Avoid most foreign fish because you don't know how long its been traveling, and most farm fish is not so good because the water is not clean"