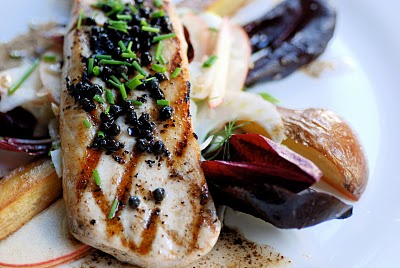 Recipes are like stories you can taste; some are calming and comforting like a clam chowder, and others are exciting, exotic and complex.  Recipes can also come from anywhere at anytime – from a magazine, a friend, or a family tradition that's been passed through the generations.
We don't want you to blankly stare at a piece of Monterey Bay seafood with no idea of what to do!  Every week, we'll add delicious recipes to this page to help get you comfortable and to keep your taste buds excited and refreshed. If you have a great recipe or photo of one of your Local Catch creations, please share it with other members on our Member's Forum or email it to us by clicking here!
Let the culinary journey begin!
Abalone Recipes
Dover Sole Recipes
Dungeness Crab Recipes
Halibut Recipes
Opah Recipes
Oyster Recipes
Pacific Albacore Recipes
Pacific Herring Recipes
Petrale Sole Recipes
Rockfish  (Rock Cod) Recipes
Sablefish (Black Cod) Recipes
Salmon Recipes
Sanddab Recipes
Sardine Recipes
Smoked Albacore Recipes
Smoked Salmon Recipes
Spiny Lobster Recipes
Squid Recipes
Swordfish Recipes
White Seabass Recipes
---
Dungeness Crab Recipes
Your crab is already cooked, so all you need to do is heat it up, adding the flavors of your choosing.  (We also think the crab meat is delicious as is!)
Summer Dungeness Ceviche
There is nothing like sitting out on a hot day with a fresh cup of cooling, soothing and delicious ceviche! This recipe makes about 6 servings.
1 Pound fresh crab meat
1 1/2 Cups Fresh Cilantro-chopped
1/2 Medium sized White Onion-chopped
2 Tomatoes-diced 1 Cucumber-diced
3 Limes
3 Serrano Peppers-chopped
1 Tablespoon Ketchup
1/2 Cup V8 Juice
Salt to taste

 
| | |
| --- | --- |
| 1 | In a large bowl, blend the crab meat, without breaking it up. Add the juice of two limes, the onion, cilantro, tomatoes, cucumber and Serrano peppers. Add salt to taste. |
| 2 | Combine the ketchup, V-8 juice and the juice of the third lime. |
| 3 | Serve with tortilla chips. |

Sally's Super Crab Cakes
Makes 8 small crab cakes.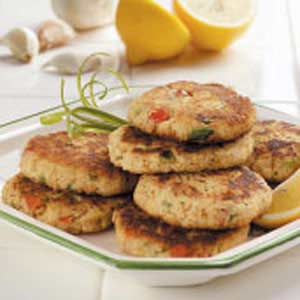 6 ounces cooked dungeness crabmeat

1 cup seasoned bread crumbs (divided 1/3 – 2/3)

1 egg, lightly beaten

1/4 cup finely chopped green onions

1/4 cup finely chopped sweet red pepper

1/4 cup reduced-fat mayonnaise

1 tablespoon lemon juice

1/2 teaspoon garlic powder

1/8 teaspoon cayenne pepper

1 tablespoon butter

 
| | |
| --- | --- |
| 1 | In a large bowl, combine the crab, 1/3 cup bread crumbs, egg, onions, red pepper, mayonnaise, lemon juice, garlic powder and cayenne. |
| 2 | Divide mixture into eight portions; shape into 2 inch balls. Roll in remaining bread crumbs.  Flatten to 1/2 inch thickness. |
| 3 | In a large nonstick skillet, cook crab cakes in butter for 3-4 minutes on each side or until golden brown.  Makes 4 servings of 2 crab cakes each. |
Dungeness Crab with Wine and Butter
Quantities are for small share size of two crabs.  This recipe is demonstrated on video here.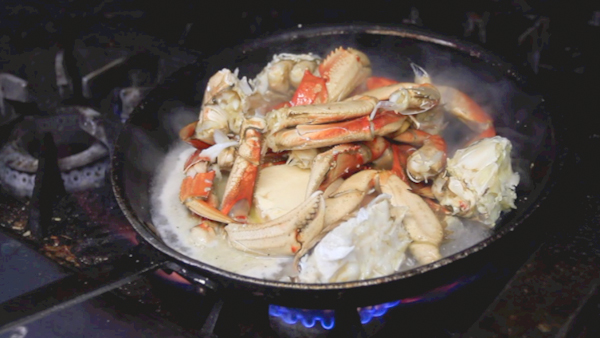 Sauteed Abalone
This recipe is from Monterey Abalone Company.  Simple and delicious!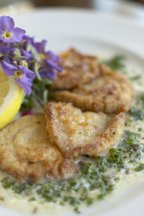 | | |
| --- | --- |
| 1 | Live abalone: Shuck and tenderize the abalone according to instructions on this page (visual) or this page (written, under "handling abalone" section. Vacuum-packed abalone: Skip this step! |
| 2 | Cut the abalone into 1cm thick steaks across the grain.  If not previously tenderized, can be lightly pounded (5-6 hammer blows) now. Mix the egg and milk and beat slightly. Place mixture in a shallow plate. In second plate place the breadcrumbs. |
| 3 | Dip the abalone in the egg wash and then coat in the breadcrumbs. When the oil is hot sauté the abalone steaks for about 1 1/2 to 2 minutes on each side.  Do not overcook!  Serve and enjoy! |
1 1/4-pound skinless sablefish fillet
4 teaspoons fresh lime juice, divided
1 tablespoon olive oil
1 1/2 cups chopped leeks (white and pale green parts only; about 1 large)
2 cloves garlic, minced
1/2 cup canned unsweetened coconut milk
1 heaping teaspoon grated lime peel

1/3 cup chopped fresh cilantro

 
| | |
| --- | --- |
| 1 | Preheat oven to 350°F Sprinkle fish with salt and pepper; place in 11x7x2″ glass baking dish. Drizzle with 1 1/2 teaspoons lime juice. |
| 2 | Heat oil in large skillet over medium heat. Add leek over medium heat. Add leek and garlic; saute 7 minutes. Add coconut milk and remaining lime juic; boil until thick, about 4 minutes. Stir in lime peel. |
| 3 | Spoon sauce over fish. Bake about 20 minutes, until fish is just opaque in center. Transfer to platter. Whisk juices in baking dish. Spoon around fish, top with cilantro. |
1 large black cod steak or fillet

2 tablespoons white miso (available from most natural foods stores)

1 tablespoon honey

2 tablespoons

 lemon juice

2 tablespoons butter

salt and pepper

 
| | |
| --- | --- |
| 1 | Sprinkle a little salt and pepper on one side of the fillet and place it seasoned side down on a very hot skillet coated in olive oil. Cook for 3-4 minutes on each side or until fillet is firm and opaque throughout. |
| 2 | While the fillet is cooking, in a medium pot at medium heat add the miso, honey, lemon juice and butter. Whisk ingredients together. |
| 3 | Remove fillet from the skillet, place on dish and generously spoon sauce over the fillet.  Consider serving over sauteed shiitake mushrooms, spinach, or quinoa.  Enjoy! |
2 black cod steaks or fillets

2 teaspoons melted butter

1/2 cup teriyaki marinade

2+ cloves minced garlic

black pepper

 
1

Mix together the melted butter, marinade, garlic, and a few dashes of pepper.  Pour the mixture over black cod steaks in a shallow glass dish, and let marinate for at least 20 minutes.

2

Bake at 350 in a casserole or baking dish in the marinade for about 20-30 minutes or until fish flakes easily.

OR

Grill on a stovetop grill pan or BBQ grill, turning carefully once, until fish flakes easily, about 15 to 20 minutes, brushing occasionally with marinade.

3

Serve with rice, with the juices (if you baked) poured on top.
Sablefish with Balsamic Orange Ginger Glaze
This recipe is from the Helen Rennie collection on culinate.com.  Serves 4 to 6.  Helen notes that flipping the fish is not required. Cooking it only on one side allows for the glaze to really caramelize on top.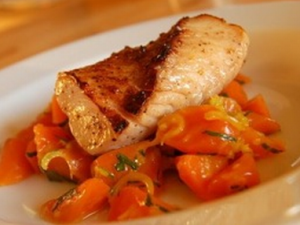 4 sablefish fillets (~6 ounces each)

2 tablespoons honey

1 teaspoon balsamic vinegar

2 teaspoons soy sauce

1 tablespoon orange juice

1 tablespoon orange zest

1 inch of ginger, peeled and minced

2 teaspoons oil

salt and pepper

 
| | |
| --- | --- |
| 1 | Preheat the broiler and wrap a broiler pan with foil.  Season sablefish generously with salt and pepper on all sides. |
| 2 | Combine honey, balsamic vinegar, soy sauce, orange juice, orange zest, ginger, and oil. Mix well and coat sablefish with this mixture. Sablefish should be only lightly coated, as too much of the glaze can burn under the broiler. |
| 3 | Broil sablefish 4 inches from the flame, just until browned, 3 to 5 minutes. Pour the rest of the glaze on top of the fish and finish in a 425-degree oven until done. The total cooking time (broiling plus baking) should be about 8 minutes per inch of thickness. To test for doneness, separate the flakes in the thickest part, and look inside. Sablefish is done when a trace of translucency remains in the center. |

Sablefish with Ouzo Sauce
This recipe is from about.com's Hank Shaw.  Hank writes: Sablefish is so rich that it does best with dry cooking. We bake it here. Sable's texture also requires a sharp foil, and I find that a bright ouzo-fennel-lemon sauce marries with sablefish well.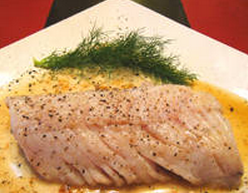 1 pound sablefish fillets, skinned and with the pin bones removed
Salt and black pepper
Fronds from a fennel bulb
2 tablespoons olive oil
1 cored and chopped fennel bulb
1 finely chopped shallot
1 tablespoon flour
1/4 cup ouzo or other anise-flavored liqueur
1/4 cup fish stock (chicken stock will do)
Juice of 1/2 lemon

 
| | |
| --- | --- |
| 1 | Preheat oven to 400 degrees.  Make a foil packet for the sablefish large enough to make sure they are not overlapping. Rub the fish lightly with olive oil and season it with salt and pepper.Curl the fennel fronds into the foil packet like a nest and place the sablefish on top. Close up the packet and bake for up to 30 minutes; check after 20 minutes, and at this point leave the packet a little open to let out steam. |
| 2 | Make the sauce. Heat a saucepan over high heat for 2 minutes. Turn the heat down to medium-high and add the oil. Let the oil get hot for a minute or two then add the fennel and shallot. Saute vigorously, stirring often.  When the fennel and shallots begin to color, add the flour and stir well. Cook this for a minute or so — do not let the flour burn. |
| 3 | Add the stock, then the ouzo and let this boil down over high heat until it is reduced by half. Remove from the heat and process in a food processor until it is pureed. If it seems too thick, add a bit more stock. OPTIONAL: For a more refined sauce, push this through a tamis or other fine-mesh strainer.Return sauce to the heat and warm through. Do not let it boil. Right before service, add the lemon juice and stir to combine. Serve at once by pouring over the fish fillets.  Garnish with fennel fronds and freshly ground black pepper. |
1/2 pound shiitake mushrooms, stemmed and cut into 1/2-inch thick slices
1 1/2 teaspoons chopped fresh thyme leaves
About 1/2 teaspoon kosher salt
1/4 teaspoon freshly ground black pepper
1/4 cup olive oil, divided
1/2 cup dry white wine
1 1/2 tablespoons finely chopped garlic
4 skinned sablefish fillets, each about 1 in. thick (about 1 lb. total), rinsed and patted dry
3 tablespoons sour cream

 
| | |
| --- | --- |
| 1 | Preheat oven to 375°. In a large, ovenproof (not nonstick) frying pan over medium-high heat, sauté mushrooms, thyme, 1/2 tsp. salt, and the pepper in 2 1/2 tbsp. oil until mushrooms are crisp and brown, 8 to 10 minutes. Add wine and garlic and cook 1 minute more. Transfer to a bowl. |
| 2 | Wipe out pan; pour in 1 1/2 tbsp. oil. Salt fish lightly on skinned side and set it, skinned side down, in pan. Cook 5 minutes on stove, then bake until fish is almost opaque, 3 to 6 minutes. |
| 3 | Transfer fillets to plates. Pour out liquid from pan, scrape pan clean, and set over medium-low heat. Reheat mushrooms, pour off any excess liquid, and stir in sour cream. Spoon mushrooms over fish. |
2 cups short-grain brown rice
1 teaspoon salt, divided
1 package (about 0.8 oz.) toasted, seasoned nori (optional)
2 green onions
2 teaspoons vegetable or canola oil
1 pound sablefish (about 2 fillets)
8 tea bags of genmaicha
1 teaspoon black sesame seeds
Tamari (rich, thick Japanese soy sauce) or soy sauce (optional)
Toasted sesame oil (optional)

 
1

In a medium saucepan, bring rice, 1/2 tsp. salt, and 4 cups water to a boil. Cover, reduce heat to a simmer, and cook until rice is tender to the bite, about 50 minutes. Remove rice from heat, uncover, and fluff with a fork. 

Meanwhile, cut nori into 1/4-in. strips and set aside. Slice green onions crosswise (including green parts) and set aside.

2

Preheat broiler. Rub a baking sheet with oil. Put fish on sheet and turn over to oil both sides. Sprinkle with remaining 1/2 tsp. salt. Broil 3 to 4 in. away from broiler until cooked through (flesh flakes easily and is opaque in the center), about 5 minutes. Transfer fish to a plate and set aside.

3

When rice is cooked, bring 8 cups water to a boil. In a large teapot, measuring cup, or pitcher, pour water over tea bags. Let steep 5 minutes. 

Meanwhile, put 1 cup rice in each of 4 large soup bowls. Place 1/2 fish fillet on each bed of rice. Pour 2 cups hot tea over each. Sprinkle with green onion and black sesame seeds. Serve immediately, with bowls of nori, tamari, and sesame oil on the side if you like.
---
Hog Island BBQ Oysters
This is a classic Tomales Bay oyster recipe.  Quantities are for 6 fresh oysters.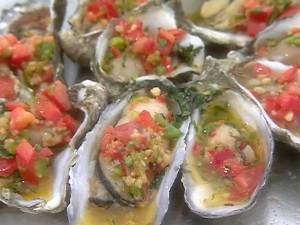 6 shucked oysters, shells reserved
1/2 cup extra-virgin olive oil
1/4 pound unsalted butter
1 tablespoon chopped garlic
1/4 tablespoon red chili flakes
1/4 cup chopped shallots
1/4 cup chopped red bell pepper
1/2 cup chopped Italian parsley

 
| | |
| --- | --- |
| 1 | Combine everything but the oysters in a saucepan. Let sauce ingredients simmer over low heat for about 15 minutes. |
| 2 | Place each oyster back in its shell. Spoon about 1 tablespoon of sauce onto each oyster and place in a covered BBQ kettle to cook for 5 minutes. |
| 3 | Serve immediately. |

Oysters with Chorizo Sauce
This recipe is from the Marshall Store, a popular seafood restaurant on the eastern side of Tomales Bay.  Quantities are for 24 fresh oysters.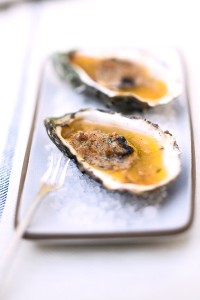 1/4 lb fresh Mexican-style chorizo sausage, removed from casing
1 cup (8 oz) unsalted butter, softened
2 tablespoons finely chopped parsley
24 oysters

 
| | |
| --- | --- |
| 1 | Soften butter at room temperature. Saute chorizo until thoroughly cooked, then crumble. Place in refrigerator to cool. |
| 2 | Place butter in a small bowl and break up with a wooden spoon. Add cooled chorizo and mix thoroughly. Add parsley. Place the mixture in the middle of a sheet of waxed paper. Roll into a 2-inch wide log, twist ends shut, and chill in the refrigerator until firm. |
| 3 | Prepare a gas or charcoal grill. While grill is heating, shuck oysters and leave in shells. When grill is hot, top each opened oyster with a thin slice of butter cut from roll. Cover and cook just until the butter starts to bubble. |
Note: If you don't have an outdoor grill, these oysters can also be cooked under the broiler. To broil, cover an ovenproof plate or platter with a layer of slightly moistened rock salt about 1 inch deep. Set oysters, in shells, on the rock salt, making sure they are level. Top each oyster with a thin slice of chorizo butter. Broil just until the butter starts to bubble.
Broiled Oysters with Garlic Breadcrumbs
Quantities are for 12 fresh oysters.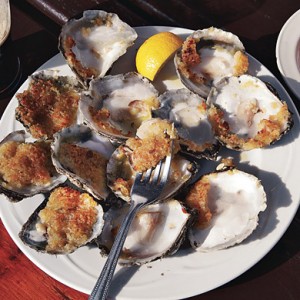 1/2 cup fresh breadcrumbs made from crustless white bread
2 1/2 tablespoons unsalted butter
1-2 cloves garlic, pressed
1/4 teaspoon Pernod or other anise-flavored liqueur (optional)
12 oysters, freshly shucked and reserved on half shell with juice
Lemon wedges

 
| | |
| --- | --- |
| 1 | Preheat broiler. Place breadcrumbs in small bowl. Melt butter in small saucepan over medium heat. Mix in garlic and Pernod, if desired. Pour butter mixture over breadcrumbs; stir to combine. |
| 2 | Place oysters in their shells on large rimmed baking sheet. Sprinkle breadcrumb mixture over. Broil until crumbs are golden, about 3 minutes. |
| 3 | Transfer oysters in shells to plates. Serve with lemon wedges. |
1 beer

2 cloves garlic

1 tablespoon butter

1/8 onion, chopped

10 ounces fresh spinach

3 ounces of cheese (mozzarella, monterey jack, fontina)

1 tablespoon milk

3/4 teaspoon fine bread crumbs

Salt and pepper to taste

 
| | |
| --- | --- |
| 1 | Scrub and clean oysters, and place in a large pot. Pour enough beer and water to cover oysters; add 1 clove garlic, salt and pepper. Bring to a boil and remove from heat, drain, and let cool. |
| 2 | Break off the top shell and place oysters on a baking sheet. Preheat oven to 425 degrees F. Melt butter in a saucepan over medium heat. Cook onion and remaining clove of garlic chopped, in butter. Simmer sauce and stir in spinach and cheese. Cook until cheese melts and stir in the milk, and season with salt and pepper. |
| 3 | Spoon sauce over each oyster, just filling the shell. Sprinkle with bread crumbs and bake until golden and bubbly, approximately 8 to 10 minutes. |
 16 whole live oysters
2 cloves garlic, finely minced
3 tablespoons extra virgin olive oil
3 tablespoons unsalted butter
1 teaspoon lemon juice
1/2 teaspoon chili pepper flakes (or substitute with dashes of Tabasco)
1/4 teaspoon salt
Cracked black pepper to taste
1 tablespoon finely minced parsley

 
1

Heat a small sauce pan over medium-low heat. When hot, add the olive oil and the butter. Add the garlic and saute until fragrant, about 30 seconds. Add the lemon juice, chili pepper flakes, salt, pepper and parsley. Turn off heat.

2

I

f you are a shuckmeister

Shuck the oysters, spoon a little sauce in each oyster. Place the oysters on a bed of rock salt or rice in a small pan — and then place the entire pan inside a very hot, preheated grill or under a broiler. This steadies the oysters and prevents them from wobbling.  It's best to wear long, sturdy BBQ gloves so you can handle the oysters by hand instead of using tongs, spoons or spatula. Cover and cook for 5-6 minutes or until the edges of oysters curl slightly. OR If you can't shuck Place the oysters on a bed of rock salt or rice in a small pan — and then place the entire pan inside a very hot, preheated grill or under a broiler for 1 minute. The oysters should now be slightly open. Quickly remove the oysters. Hold an oyster with an oven mitt and use a shucking knife (or a clean screwdriver if you don't have one) to pry open the oyster. It should easily open. Spoon sauce into each oyster and return oysters to the grill. Cover and grill 4-5 minutes.

3

Serve and Enjoy!
Sanddab Recipes
Jimmy Stewart's Sanddab Recipe
His distinctive personality but in sanddabs! From LCMB member Riley: "It turned out great! We both agree that it was our favorite way to prepare sand dabs so far (we have a little trouble getting past the bones). We added red chili flakes to the fish while it was cooking and it gave it a little extra kick."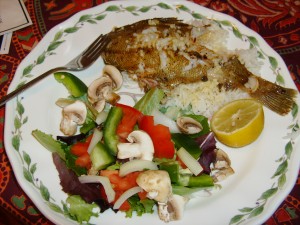 2-4 small Sanddab fillets
2 tablespoons unsalted butter
Ground pepper to taste
Hot garlic herb butter
Salt to taste
Sauteed Sanddabs with White Wine
Quantities in this recipe are for just 2-4 sanddab fillets – increase as necessary for your share.
Simply Delightful Fried Sanddabs with (optional) Garlic Lemon Butter
Keeping it simple and delicious!  Quantities listed here are for 1lb of sanddabs.
---
Pacific Sardine Recipes
Forget about cans – there's nothing quite like truly fresh sardines. Once cleaned, these abundant and extremely healthy fish are a snap to prepare. You can't go wrong cooking them "Mediterranean style" on the grill or baking them in the oven. Try one of these recipes and enjoy a traditional seafood feast!
Gaspar Catanzaro's Grilled Monterey Sardines
This recipe by Chef Gaspar Catanzaro is shared via cookingchanneltv.com. Serves 1-2.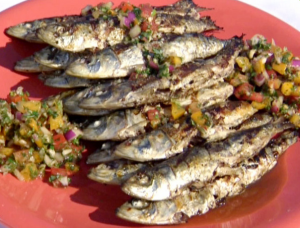 Dominic Mercurio's Grilled Sardines with Salsa
This recipe is from Dominic Mercurio, owner of Café Fina and Domenico's on the Wharf, Monterey, and was featured in the Summer 2012 issue of Edible Monterey Bay. Use your judgment with the quantities. For a fantastic traditional preparation, it doesn't get much simpler than this!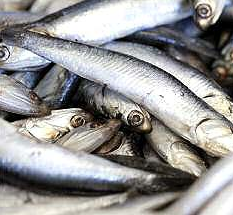 Chopped tomatoes
Red wine vinegar
Chopped fresh garlic
Oregano
Lemon juice
Olive oil
Salt, pepper and cumin
Fresh sardines

 
| | |
| --- | --- |
| 1 | Combine first six ingredients to make salsa. |
| 2 | Clean and fillet sardines and grill on an open fire with salt, pepper and a little cumin. |
| 3 | Serve with salsa. |
Grilled Sardine Tacos with Achiote, Lime, and Pineapple Salsa
Along the Yucatán coast of Mexico, cooks often marinate fish this size with citrus and achiote paste, made with annatto, garlic, herbs, spices, and vinegar. This recipe is from the September 2011 issue of Sunset magazine. Serves 4 to 6.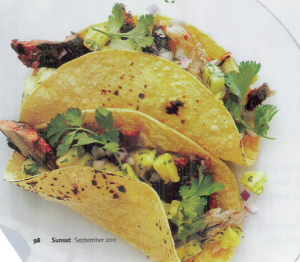 6 whole sardines (1 3/4 pounds total)
1/4 cup achiote paste (look in Mexican markets or Latino foods aisle)
5 tablespoons lime juice, divided
2 tablespoons orange juice
3 tablespoons olive oil, divided
About 3/4 teaspoon cayenne, divided
About 2/3 cup chopped cilantro, divided, plus 1 cup cilantro sprigs
1 1/4 cups chopped fresh pineapple
1/4 cup minced red onion
1/4 teaspoon kosher salt
8 to 12 corn tortillas, warmed

 
| | |
| --- | --- |
| 1 | Clean sardines and cut 2 diagonal slashes through flesh just to bone on both sides of fish. Combine achiote paste, 1/4 cup lime juice, the orange juice, 2 tablespoons oil, 1/4 teaspoon cayenne, and 6 tablespoons chopped cilantro in a large bowl. Add fish and rub all over with marinade, working it into slashes. Chill 1 hour. |
| 2 | Heat grill to high (450 to 550 degrees). Drain fish and rub with remaining 1 tablespoon oil. To make salsa, combine pineapple, onion, salt, remaining 1 tablespoon lime juice, 1/8 to 1/4 teaspoon cayenne, and 1/4 cup chopped cilantro in a bowl; chill salsa until used. |
| 3 | Oil cooking grate, using tongs and a wad of oiled paper towels. Grill fish, covered, until marks appear and fish release when nudged with tongs, about 3 minutes; gently roll over and cook other side, about 2 minutes. Using a wide spatula, transfer fish to a board. Serve fish whole and let diners fillet their own, or fillet fish in the kitchen and set on a warm platter. Serve with salsa, tortillas, and cilantro sprigs. |
Sardines with Caper and Lemon Sauce
This recipe is from Chef Emeril Lagasse and is shared via cookingchanneltv.com. Serves 4 to 6.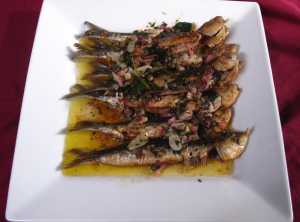 1/2 cup of flour
1 tablespoon kosher salt, plus 1/2 teaspoon
1 tablespoon "Emeril's Essence Creole Seasoning", recipe follows
8 tablespoons Spanish olive oil
2 pounds fresh whole sardines, cleaned and gutted
1 small shallot, minced
2 cloves garlic, sliced
1/4 teaspoon crushed red pepper
Freshly ground black pepper
1 tablespoon whole fresh parsley leaves
1 tablespoon whole fresh cilantro leaves
1 tablespoon nonpareil capers, drained
Juice of 1 lemon
Emeril's ESSENCE Creole Seasoning:
2 1/2 tablespoons paprika


2 tablespoons salt




2 tablespoons garlic powder




1 tablespoon black pepper




1 tablespoon onion powder




1 tablespoon cayenne pepper




1 tablespoon dried oregano




1 tablespoon dried thyme

 
| | |
| --- | --- |
| 1 | Add the flour, 1 tablespoon salt, and the Creole Essence to a shallow sided platter. Stir to combine. Reserve.Heat a 12-inch nonstick saute pan over medium high heat. Add 4 tablespoons of the olive oil. |
| 2 | Quickly dredge the sardines in the seasoned flour, then add directly to the hot oil. Cook for 4 minutes per side, or until just cooked through, then transfer to a serving platter. |
| 3 | In the same pan heat the remaining olive oil then add the shallot, garlic, crushed red pepper, black pepper, the remaining 1/2 teaspoon salt, parsley, cilantro, capers, and lemon juice. Toss until the herbs are wilted and pour the entire mixture over the sardines. Serve immediately. |
Grilled Sardine, Tomato, and Mint Bruschetta
This recipe is from the September 2011 issue of Sunset magazine. Serves 8 as an appetizer, 4 as a main course.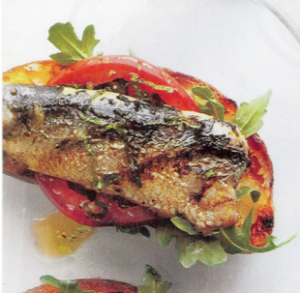 4 whole sardines (1 1/4 pounds total)
2 large garlic cloves, minced
1/4 cup thinly sliced fresh mint leaves
1/2 teaspoon each kosher salt and pepper
About 7 tablespoons extra virgin olive oil, divided
8 thin slices ripe, medium heirloom tomatoes
2 tablespoons sherry vinegar, divided
8 slices (1/2 inch thick) ciabatta bread (6 ounces total)
2 cups lightly packed baby arugula

 
| | |
| --- | --- |
| 1 | Clean sardines. Combine garlic, mint, salt, and pepper with 1/3 cup oil in a large bowl. Spoon half into a medium bowl. Add sardines to large bowl and pat them all over outside and in cavities with mint mixture. Set aside. |
| 2 | Heat grill to high (450 to 550 degrees). Add tomatoes to medium bowl with 1 tablespoon vinegar. Turn gently to coat. Brush bread with remaining 1 1/2 tablespoons oil.Oil cooking grate, using tongs and a wad of oiled paper towels. Grill fish, covered, until marks appear and fish release with nudged with tongs, 2 to 3 minutes; gently roll over and cook other side, about 2 minutes. Transfer fish with a wide spatula to a board. Grill bread, turning once, until edges are browned, 1 to 3 minutes. |
| 3 | Fillet cooked sardines (see diagram from article below). Top each toast with a arugula, then a tomato slice (leaving juices behind), then a sardine fillet. Stir remaining 1 tablespoon vinegar into tomato juices, spoon a little over bruschetta (save the rest for other uses), and serve immediately. |

---
Pickled Fish Salad with Potatoes and Greens
This recipe appeared in the September 2011 issue of Sunset magazine. Serves 4 as a main dish. 45 minutes prep, plus 2 hours to cure.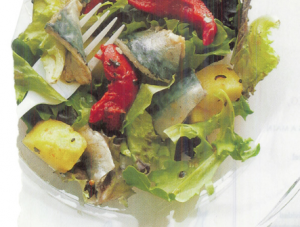 1 1/4 pounds whole sardines
4 1/2 tablespoons white wine vinegar, divided
3 tablespoons lemon juice
About 1 1/2 teaspoons kosher salt
5 tablespoons extra virgin olive oil
2 teaspoons pickling spice, crushed
1 pound thin-skinned potatoes, peeled and cut into 2-inch chunks
1/2 cup roasted red peppers cut into 2-inch pieces
1 1/2 quarts lightly packed salad greens

 
| | |
| --- | --- |
| 1 | Clean and fillet fish, and place in a shallow 8- or 9-inch glass baking dish. Combine 3 tablespoons vinegar, the lemon juice, 1 teaspoon salt, and 1/4 cup water in a cup. Pour over fish. Chill, covered, 2 hours. Combine remaining 1 1/2 tablespoons vinegar, 1/2 teaspoon salt, the oil, and pickling spice in a large bowl. Set dressing aside. |
| 2 | Simmer potatoes in small saucepan with water to cover until tender when pierced, 10 to 15 minutes. Drain, let cool briefly, then quarter and return to pan. Mix gently with half the dressing and let cool. |
| 3 | Add peppers to remaining dressing and let stand until ready to serve. Drain fish and cut into 1 1/2 inch pieces. Mix gently with the pepper mixture. Add salad mix and potatoes and toss to coat. Enjoy! |
Sardine Bocadillo with Mojito Ailoi
This recipe is by Chef Brendan Jones and originated at the Cachagua General Store. Jones is now co-owner and chef at Carmel Valley's Lokal. This recipe appeared in the Summer 2012 issue of Edible Monterey Bay. Serves 3 to 4.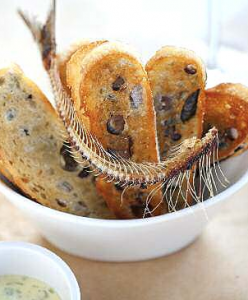 10 fresh whole sardines
1 sourdough baguette
1 lime, juiced
1 cup fresh mint leaves
4 egg yolks
12 ounces canola or neutral-flavored oil
1 teaspoon salt
2 ounces olive oil

 
| | |
| --- | --- |
| 1 | For the sardines: Put sardines in a container of cold water. De-scale sardines in water, pat dry with paper towel, cut down either side of spine to fillet. Put fillets aside, keep cool.For baguettes: Cut bread into angled slices as thin as possible at the average length of fillets. Prepare twice as many pieces as you have sardines, so 20 slices for 10 sardines. |
| 2 | For mojito aioli: Put mint, yolks, lime juice and salt in 1-quart round container. With immersion blender and chopping attachment, blend until mint has been chopped into small pieces. Next, attach whisk and whisk mixture at an angle, drizzling in the canola oil very slowly until all canola has been emulsified into mixture. (It helps to have a second person hold the container for you.) Taste. Add more salt or lime juice as needed. If mix is too hard, you can mix in a couple tablespoons of warm water. Keep cool. |
| 3 | Make sandwiches from the bread and fillets, and place on flat cool plate or tray. Brush both top and bottom of each sandwich with olive oil. Do not be shy with olive oil. Once griddle is at 375° F, place a couple sandwiches on griddle. Cook each side of sandwich until golden brown. Make sure you press down on sandwiches while cooking, so the protein binds to the bread, causing the sandwiches to stick together. Put on plate and serve aioli as a dipping sauce. |
Fried Sardines
Paula Deen insisted that we add a recipe for fried sardines. This is easy and delicious, so we didn't refuse. Serves 2.
Olive oil
6 whole, fresh sardines
Salt and black pepper
All-purpose flour
Parsley leaves, chopped, for garnish
Lemon wedges

 
| | |
| --- | --- |
| 1 | Heat the oil in a shallow pan. Season the sardines with salt and pepper. Then, dredge them in the flour, shaking off the excess and place them in the hot oil to fry. |
| 2 | Turn the sardines over with tongs and fry on the other side. |
| 3 | Drain on paper towels. Garnish with chopped parsley and serve immediately with lemon wedges. |
Swordfish Recipes
Popular for its meaty texture, swordfish is typically prepared like steak, over a grill, roasted, or accompanied with a variety of sauces. 
Pan-Roasted Swordfish with Mixed-Peppercorn Butter
This is a classic and simple recipe for enjoying the steak like texture and seasoning possibilities of swordfish.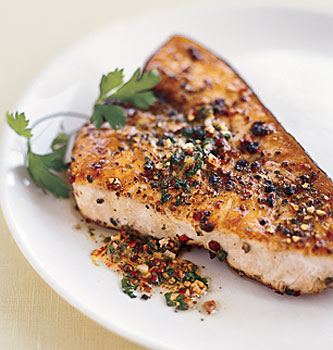 1/4 stick butter, room temperature
1 teaspoon chopped fresh parsley
1 garlic clove, minced
1/4 teaspoon ground mixed peppercorns, plus more for sprinkling
1/4 teaspoon (packed) grated lemon peel
1/2 tablespoon olive oil
2 swordfish steaks (about 6 ounces each)

 
| | |
| --- | --- |
| 1 | Pre-heat oven to 400 degrees F. Mash butter, parsley, garlic, 1/4 teaspoon ground mixed peppercorns, and lemon peel in small bowl. Season to taste with salt. |
| 2 | Heat oil in heavy ovenproof skillet with medium-high heat. Sprinkle salt and pepper over swordfish. Place on the skillet and cook until browned (3 minutes or so). Flip and put in the oven to cook for another 10 minutes or until browned and cooked in the middle. Transfer swordfish to plates. |
| 3 | Add seasoned butter to the skillet and cook on medium-high heat. Scrape up the delicious brown bits and cook until bubbling. Pour over swordfish and enjoy! |
Sicilian-Style Swordfish
This recipe was runners-up for www.food52.com swordfish recipes.The salt and brine from the capers and olives really complements the meatiness of the swordfish, while the sweet sun-dried tomatoes add an extra dimension of flavor.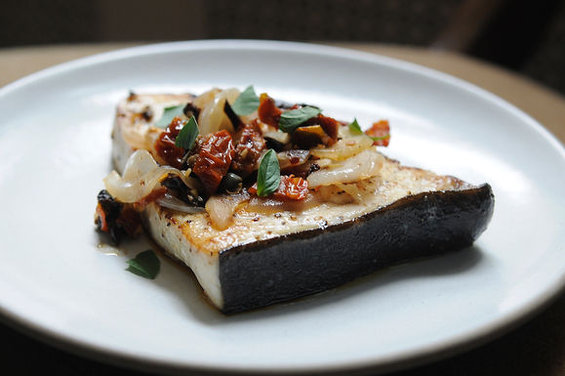 1 tablespoon olive oil
1/2 medium yellow onion thinly sliced
1 garlic cloves, finely minced
1/4 cup sun-dried tomatoes packed in oil
1/8 cup pitted oil-cured black olives coarsely chopped
1 tablespoon salted capers, well rinsed and coarsely chopped
1/8 cup dry white wine, preferably Sicilian
crushed red pepper to taste
2 swordfish steaks (about 6 ounces each)
salt and pepper to taste
basil, roughly torn for garnish

 
| | |
| --- | --- |
| 1 | In a large skillet heat oil over medium heat. Add onion and garlic; cook, stirring frequently, until onion is lightly browned, 3 to 4 minutes. Remove from heat. Add sun-dried tomatoes, olives, capers, wine and generous pinch red pepper flakes; stir together. Transfer to bowl. |
| 2 | Lightly season swordfish with salt and pepper; in a single layer, place fish in skillet. Return skillet to medium-high heat, cover and cook for 3 minutes per side. |
| 3 | When swordfish is cooked through and browned, cover with sauce and warm. Sprinkle roughly torn basil and serve. This dish can also be served room temperature. |
Suya Swordfish
This recipe won the best recipe competition for www.food52.com. "This is an adaptation of a Nigerian peanut marinade, which is commonly spread over meat, skewered and then cooked over hot coals/firewood. We call it suya and it is popular streetfood – the kind of thing Nigerians in diaspora miss when they're away from home!"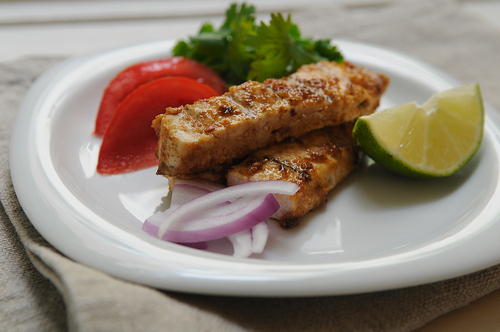 2 swordfish steak (roughly 6 ounces each), cut into 8 long thick strips


3/4 -1 cup organic peanut butter (not Jiffy, etc.)
1 teaspoon chili pepper
1 teaspoon sweet paprika
1 teaspoon sea salt
1 teaspoon ground ginger
1 -2 tablespoons lime juice
Thinly sliced red onions, tomatoes, lime halves and coriander leaves, to serve

 
| | |
| --- | --- |
| 1 | Make the peanut paste by combining peanut butter, paprika, chili pepper, salt, ground ginger and lime juice. Stir well and taste. Adjust spices as necessary |
| 2 | Place fish strips in a large bowl and pour peanut sauce over it, then using your hands, mix well ensuring the pieces are coated with the sauce. Leave to marinate for a few hours or overnight. |
| 3 | When ready to cook, prepare the bbq and let the coals heat up till fiery red.Then pass (soaked wooden) skewers through each piece of swordfish, and place on an oiled rack. Let cook for 5-6 minutes on one side, then flip over and let the other side cook for 2-3 minutes. If not ready, remove to part of grill where heat is indirect and let cook till ready. Serve with thinly sliced red onions, sliced cherry tomatoes, lime halves and coriander leaves |
Newport Grilled Swordfish
Here is a simple recipe provided by Ben Lomond site host Kym Morello. "When I was a kid, my godfather would grill fresh swordfish on an open piece of foil with the sides folded up, over a hot barbecue grill: If you guys want to try it…we agree it is still our favorite!"  Serves 2.  If you make this, please send us a photo to post here!
1 large piece of heavy duty foil with the sides folded up
1 swordfish steak
1/2 a lime
1 chopped shallot
1 clove garlic, chopped fine
1 tablespoon olive oil
1 tablespoon cold butter, chopped in small cubes
Salt and pepper (to taste)

 
| | |
| --- | --- |
| 1 | Get the barbecue started. Place the swordfish steak on the foil, bring the sides of the foil up to cradle the liquid. Squeeze the juice of 1/2 a lime over the steak. Add the chopped shallot and garlic over the top of steak…sprinkle the steak with olive oil and cold butter chunks, sprinkle with salt and pepper. |
| 2 | Grill about  10 to 20 min. depending on the thickness with indirect heat and cover on. If you don't have a cover on your grill  just seal the foil up around the fish but leave an opening at the top for the steam to release so it doesn't poach the fish. No need to turn it over. |
| 3 | Serve with a little Wasabi Mayo and the other half of the fresh lime. |