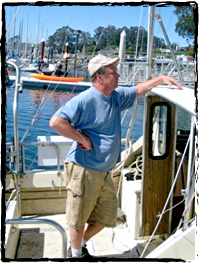 Greg Young - Fisherman and Processor
Greg has loved fish for almost five decades.  It is his passion and his life.  He has braved the oceans, rivers and streams, desk jobs that crisped his sea loving soul, fisheries collapsing and economic downturns,  AND through it all, his love of fishing, sourcing fish, preparing fish and bringing the freshest seafood possible to others has never dimmed. Anything fish is Greg's life signature.  In 2008, Greg and his wife Edyta launched Sandabs Seafood and Wine Bar in Scott's Valley.  Weekly, Greg processes hundreds of pounds of fresh fish for use in the restaurant, buying extensively from small-scale fishermen in Monterey Bay ports.  Greg also catches and cans sardines and pickles fresh caught herring.  Greg will be helping to source and fillet the best local fish each week for our CSF shares.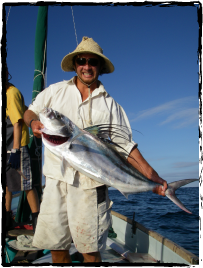 Alan Lovewell - Co-founder and Manager
Alan grew up on the small island of Martha's Vineyard. Surrounded by water he quickly learned to swim, dive, sail and fish for fun and for work. Stories of the wild and expansive Pacific brought Alan to Santa Cruz in 2000 to pursue an undergraduate degree at UCSC. After graduating, he headed south to teach sailing on the Sea of Cortez with the National Outdoor Leadership School. He returned a couple years later to study Marine Policy at the Monterey Institute of International Studies. Alan has spent time working with The Nature Conservancy and Conservation International in Indonesia. Most recently he was a Sea Grant Fellow with The West Coast Governors Alliance for Ocean Health at NOAA's Northwest Fisheries Science Center and Southwest Fisheries Science Center. Alan develops new strategies, programs, and partnerships that keep oceans, people and stomachs happy. 
Zach Koehn - Chief Sustainability Officer
Happiness and seafood have been conditioned into Zach ever since he took his first steps as a baby at a sushi restaurant not too far from his Wisconsin home. The only thing between him and the glistening sashimi on his dads plate was learning how to walk. So he walked, and abandoned the vegetable tempora on his plate.
Zach began to deeply consider what he was eating during graduate studies at Stanford University, where he focused on environmental ethics, landing him at Hopkins Marine Station in Pacific Grove. After graduating, he began research with the Center for Ocean Solutions, where his curiosity focused on the way we think about and use our beautiful coastline to find better solutions to the strategies that communities and governments use to interact with and manage our oceans and coasts.
Zach was attracted to LCMB for the same reason as our subscribers: to personally find a local, seafood connection to our fishing community and the fish of Monterey Bay. When not working with LCMB or researching, you will find him in the Big Sur hills, reading and writing, looking for rolling Monterey county waves, or in the midst of culinary struggle trying to innovate new recipes. All in all, eating seafood is still happiness.
Fishermen bios can be seen by clicking here.
---