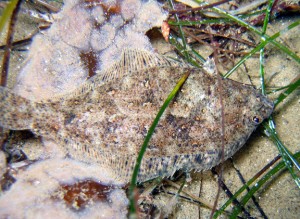 This week's offerings from the sea are the amazingly well camouflaged sanddabs. They spend their time blending into the ocean floor hoping to ambush some tasty prey. Tuck Yee and Joe Carvalo caught these guys off Moss Landing this weekend. We suggest eating them as soon as you can get your hands on all the ingredients for the recipe below.
Sanddabs Meunière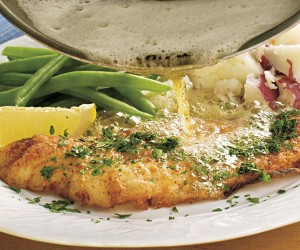 LCMB sanddabs cleaned
salt and pepper, to taste
flour, for breading
4 tablespoons butter
1 lemon, juice of
1 tablespoon parsley, minced
1) Sprinkle fish with salt and pepper; roll in flour and fry in half the butter.
2) When tender and nicely browned, transfer to a hot platter and keep hot.
3) Add remaining butter to skillet and brown lightly; add lemon juice and parsley and pour over fish.
4) Serve at once.
Caught by: Tuck Yee and Joe Carvalo on the F/V Papason
Landed in: Moss Landing
When landed: Saturday and Sunday, 10/12 and 10/13
Filleted and bagged: Monday, 10/14, by Greg Young
Coolers packed: Tuesday AM 10/15, by Alan and Joseph
Fillets shares vs. Whole fish shares: Same Today!
What to take: small shares: 1 bag; family shares: 2 bags.
For best taste, eat by: Sanddabs are not quite as perishable as squid, but need to be eaten as soon as possible. We suggest you eat them by Wednesday night, or otherwise freeze them. Whole fish shares should be cleaned on Tuesday.