Most of you remember we did sablefish(black cod) last week, and some of you may also remember we gave Brett Shaw the heads, carcasses and guts to go crabbing. Well all those "left-overs" yielded dungeness crab for you all this week! Talk about reducing our waste stream and creating a sustainable loop…of deliciousness. Now we need to figure out what we can catch with the crab shells to continue to cycle. Until then, the most amazing thing you all can do is make bisque out of the crab shells, then compost the shells in your garden to grow veggies…More sustainability and deliciousness. Any other possibilities?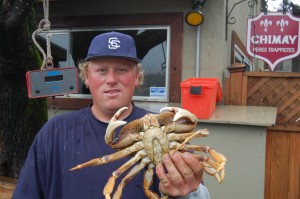 Regarding sustainability and the green cycle, folks from Green Heart Works invited us to participate in a film about efforts throughout Monterey to mitigate our waste streams and in some cases make energy out of it through the Monterey Regional Waste Management District. The idea of running a fishmobile on fish waste may be easier then we thought. We want to thank Anton for helping out and participating in the shoot and for all the Eco Carmel members for their patience during the filming activities!
Yesterday was Greg Young's, 50th Birthday. Friends and family gathered last night at his restaurant "Sandabs" in Scotts Valley to celebrate Greg's 18262.1099 days. The event included great food, a slide show, and a plethora of stories; mostly having to do with fishing.