As some of you may remember, a few weeks ago we offered petrale sole. We were excited because it was a new species that we hadn't offered before and we knew it was something most, if not all, would enjoy. However, we certainly did not anticipate the amount of enthusiasm we received from our LCMB members. As you can imagine given the response a few weeks ago, we are really excited to offer petrale sole again this week.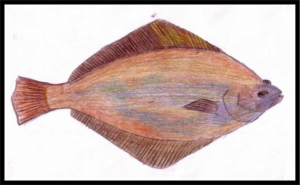 Petrale are a type of flounder rather than being a true sole. They inhabit sandy bottom habitats along the North American West Coast and are quite the characters, with two eyes on the right side of their head and aggressive eating habits. Trawling is the only way that sole species such as petrale are usually caught, and while they are caught year-round, they are targeted most during the winter months (Jan-Feb is the peak) when they are aggregated in groups at specific, deep-water locations prior to spawning. The petrale fishery has been in a rebuilding plan for the past few years, and lower quotas have pushed prices a bit higher than they used to be. The good news is that petrale sole populations are on target to be declared rebuilt this year. AND, petrale sole's delicate, mildly sweet flavor and flake-tender texture might even cure the most fish wary members of your household!
There IS a difference between whole fish and fillet share types this week - whole fish shares only will be labeled by member last name, so please be sure to take the right package. While our self-service honor system works great the vast majority of the time, every couple weeks or so a member will arrive at a site and find that their share is missing. Since one person's actions affect everyone else, please please please always make sure to double-check our Monday email for instructions specific to that week and be sure to pass all the information along if someone else will be picking up your share for you.
Caught by: F/V Mary Jane
When caught: Friday 2/15
Landed in: Fort Bragg
Cleaned and filleted: Sunday 2/17 and Monday 2/18
Coolers packed: Tuesday 2/19 by Alan and Vinny
Fillets shares vs. Whole fish shares:
fillet preference: petrale sole fillets
whole fish preference: whole petrale sole LABELED with member last name. 1 or 2 whole fish per small share, depending on size of fish.
What to take:
small shares: 1 package
family shares: 2 packages
Eat by: Thursday
Links:
about petrale sole:
-Our LCMB petrale sole species profile
-Here's some excellent additional information on petrale sole from NOAA FishWatch
about petrale sole fishing:
-Petrale sole is caught with trawl nets. Click here to learn more about pros and cons of this fishing method
-More than you ever wanted to know about the status of the West Coast petrale sole resource (2010)
about petrale sole preparation:
All good recipes for petrale sole call for delicate garnishes to match the fish's delicate flavor. This is not the fish to slather in spicy, piquant salsas. Mild seasoning, butter, and olive oil are all that are needed to highlight petrale sole. And for accompaniments, think light as well.
-5 tempting petrale sole recipes on the LCMB website – 4 for fillets, 1 for whole fish
-Whole gutted petrale sole can be cooked as they are. This is the easiest way, as the meat will fall off the bones once cooked. If you would rather fillet your whole sole prior to cooking, you can follow these instructions or this video.
-Please share your petrale sole experience on our Facebook page or on the "Sole Discussion" section of our Member's Forum.