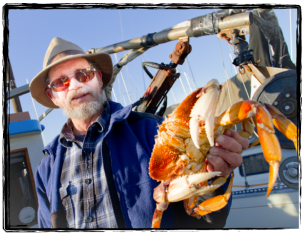 If you haven't noticed, we get excited about pretty much every Local Catch Tuesday, but we get particularly excited about weeks that involve the words DUNGENESS CRAB. Crab season runs from November to June, and we love to share the amazing bounty of our local crab-infested waters with you every few weeks during the season, conditions and price allowing. Our first crab share of the 2012/13 season was on December 11. Since then, the price of crab has fallen slightly, allowing us to provide 2 crabs per small share for all members this week. The majority of this week's crab was caught by John Hulliger, a Moss Landing-based fisherman who has been a Local Catch contributor since our first week – you may have met him at our potlucks in Monterey and Santa Cruz. As usual, your crab will be cooked, halved, cleaned, and bagged – those of you with less self control can start eating it on the way home from the pickup site! This week we've added a recipe for Dungeness Crab in a White Gazpacho with Sweet Red Grapes and Toasted Marcona Almonds Tossed in Spanish Smoky Paprika – and it's easier than it sounds. Find recipes and much more by following the links below.
This past week, January 17 marked the one year anniversary of LCMB's first delivery. Alan and I were lured to a "movie night" last Thursday, and arrived to find a room full of friends surprising us with an amazing birthday party for Local Catch. And yes, there was plenty of fish, including rockfish sushi and ceviche. We are so thankful that LCMB has been embraced by so many people. On a different note, I (Oren) would like to let everyone know that I will be taking a leave of absence from Local Catch this spring, following the delivery on 1/29. The chance to lead a group of youngsters on a "gap year" semester to East Africa was not an opportunity I could turn down. I will miss interacting with all of you – and of course I will miss the tremendous bonus of getting to enjoy extra shares of Monterey Bay seafood on many weeks

In my absence, Alan will be running the show and he will be assisted by Vincent, who has already taken over the responsibilities of delivery driving. Vincent is taking a break from being a student at UCSC, and local food systems are one of his many interests. He's been working with seafood this past year and is a fast learner – you may see him responding to some of your emails.
Finally… scroll down for announcements about a Local Catch tour of the new Sanctuary Exploration Center, and learn how to easily earn $5 this week.
Caught by: John Hulliger and Ken Miller
When caught: Throughout the week of 1/14-1/18 (and kept alive)
Landed in: Moss Landing and Santa Cruz
Cooked, cracked and cleaned: Sunday 1/20 and Monday 1/21
Coolers packed: Tuesday 1/22 by Oren and Alan
Fillets shares vs. Whole fish shares:
fillet preference: cooked and cleaned crab
whole fish preference: cooked and cleaned crab
What to take:
small shares: 1 bag (contains 2 crabs)
family shares: 2 bags (each bag contains 2 crabs)
Eat by: Friday
Links:
about Dungeness crabs:
-Our LCMB Dungeness crab species profile
-Here's some excellent additional information on Dungeness crabs from the National Park Service
about Dungeness crab fishing:
-Fisherman profiles for John Hulliger and Ken Miller
-Dungeness crab are caught with traps/pots. Click here to learn more about pros and cons of this fishing method
-LCMB exclusive VIDEO: Fisherman Christian Zajac explains crab traps; crab is unloaded from John Hulliger's boat
-We're working on getting out to shoot our own footage, but until then check out this video to see what California crabbing is like out on the water. You'll see the fishermen measure each crab and toss back females and undersized crabs.
about Dungeness crab preparation:
-15 Awesome dungeness crab recipes on the LCMB website
-Prep suggestions from other members are here. Add yours!
-LCMB video cooking demo #1: Dungeness Crab with Wine and Butter
-LCMB video cooking demo #2: Member and Otter 501 moviestar Katie Pofahl walk you through cooking a Cromellete
-Tips:
-Be sure to eat all the yummy meat from within the body, not just the meat in the legs!
-Use a crab claw as a tool to pick out the body meat from the cartilage "dividers."
-Leftover crab is delicious in a Cromellete
-Please share your crab experience on our Facebook page or on the "Dungeness crab" section of our Member's Forum.
Enjoy your Local Catch Tuesday!
Oren and Alan
><((((º>`·.¸¸.·´¯`·.¸.·´¯`·…¸><((((º> ><((((º>`·.¸¸.·´¯`·.¸.·´¯`·…¸><((((º> ><((((º>`·.¸¸.·´¯`·.¸.·´¯`·…¸><((((º> ><((((º>`·.¸¸.·´¯`·.¸.·´¯`·…¸><((((º> ><((((º>`·.¸¸.·´¯
Local Catch Webstore is Open!
Currently available items include:
-Extra shares of tomorrow's fish
-LCMB T-shirts and hoodies – your order helps us to provide our regular fishermen with free Local Catch hoodies
-Smoked sablefish
-Live abalone
-A new LCMB cooler bag
-Fisherman Chris Zajac's art and original shirts
-Cedar planks for grilling fish
Access the Webstore by logging in to your account and then clicking on the words "Web Store" in the upper right corner. Orders must be placed by 9pm Monday to receive the following day. You should receive a confirmation email with the successful completion of an order, and your Local Catch account balance will be debited accordingly at the time of delivery.
Sanctuary Exploration Center Tour, 10am on 2/16/13
Much of our seafood comes from the clean waters of the Monterey Bay National Marine Sanctuary (MBNMS). In 2012, the MBMNS opened the Sanctuary Exploration Center (SEC) at 35 Pacific Avenue, right by the Santa Cruz boardwalk. The SEC is a first-class facility that can "bring it all together" and help you to understand the environments that many of your Local Catches come from. LCMB member Sandra Cohen is a docent at the Exploration Center, and has offered to provide some interpretation for interested Local Catch members. Admission, an outstanding 17-minute film, and Sandy's intepretation are all FREE (donations to SEC are optional). This is an excellent opportunity to learn about our local waters and meet others in the LCMB community. Meet at 10am on Saturday, February 16, and plan to spend about an hour. All welcome.
Earn $5
Email us a photo of your family enjoying your dungeness crab this week (or post it to Facebook or our Member's Forum), and we'll credit your Local Catch account $5. Easy! We may use your photos for promotional purposes, but mostly they're just fun to see

Important Reminders
1. If you will be unable to pick up your share, you MUST notify us via email by the Friday before the first Tuesday you will miss. We are more than happy to accommodate vacation periods of any length, but we need a little notice so that we don't purchase seafood for you over the weekend.
2. If you are extra-excited or rather unexcited about a particular week's offering, you can place a posting on our Buy/Sell/Swap discussion topic and make arrangements to trade with other members. If you do this, be sure to provide some kind of contact info so others can get in touch with you.
3. Send us a new recipe, broken down into steps and with a photo you've taken, and we'll credit your account $5.
4. Refer a new member, and receive a $20 referral credit. Make sure the new member gives us your name after they sign up.
5. Need some new seafood preparation ideas? Get together with other LCMB members and share a meal by posting on this discussion topic.