Happy New Year! This is Alan with your weekly LCMB newsletter while Oren is taking a little time off to do some traveling. 
Tomorrow we will be delivering rockfish (mostly bocaccio with a few chili pepper) caught by Dan, Scott, and Ollie, and landed in Capitola. This rockfish was caught with hook and line up near Davenport before the rain and rough seas hit last weekend.
After coming back from two weeks away from Local Catch I thought It would be good to share some reflections on our first year and a few thoughts about our second. First, I want to personally thank you all as members for making Local Catch possible and demonstrating that there is a real demand for fresher more sustainable local seafood; an interest in our fisheries, waterfront communities and ocean; and more than anything, confirming that it can be an exciting, enjoyable, and delicious experience. 
As many of you all know, Local Catch was created to improve our relationship to seafood, local fisheries, the ocean, and everything that depends on the health of these resources. As much as we need the ocean to provide jobs and to feed us, the ocean needs us to watch over it. We are all on the same side. This is certainly no easy task, but I think we can make a lot of progress if we as a community can give the ocean a little more attention, celebrate it, and more than anything connect with it in as many ways as possible. From walking the beach, getting in the water, diving the kelp forests, cooking a seafood dinner, or simply watching the sunset, all these simple activities help us strengthen our connection to the ocean. This is certainly not the solution, but In a day and age when our time and attention is the most valuable resource I believe it can make a big difference. 
We certainly enjoy sharing our experiences on the ocean with you all, but some of the most rewarding things about LCMB are hearing the stories from you all. No pressure of course, but if you all ever have a memorable or remarkable experience by the sea we'd love to hear it! Please let us know if there is anything Local Catch can do to enhance your seafood experience and/or bring you a little closer to the ocean.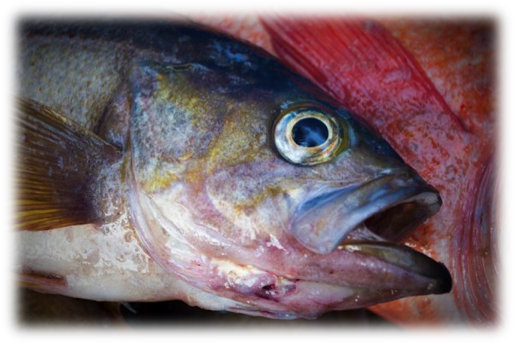 Here are the details of this weeks Local Catch:
Caught by: Dan Williams, Scott and Ollie" with hook and line
Landed in: Capitola
Landed on: Wednesday and Thursday
Processed and Bagged: Saturday and Sunday by Greg
Coolers packed: On Tuesday by Alan
Fillets shares vs. Whole fish shares: same - there is no difference between fillet shares and whole shares this week.
fillet preference: fillets
whole fish preference: fillets
What to take:
small shares: 1 bag
family shares: 2 bags
Eat by: Thursday or freeze.
Links:
about rockfish:
- Our rockfish species profile
- An underwater video of cowcod and bocaccio rockfish from the NOAA Southwest Fisheries Science Center
about rockfish fishing:
- Rockfish are usually caught with hook and line or trawling
- 2011 commercial landings of rockfish and other species landed in the Monterey Area
about Market squid preparation:
-Thirteen simple, creative, and exciting rockfish recipes on the LCMB website.
-LCMB cooking demonstration video: Santa Cruz Chef Marisa Johnston of By Marisa shows you how to make a fennel rock cod with a wine mustard sauce and orange caper olive salsa.
-Please share your rockfish experience on our Facebook page or on the "rockfish" section of our Member's Forum.