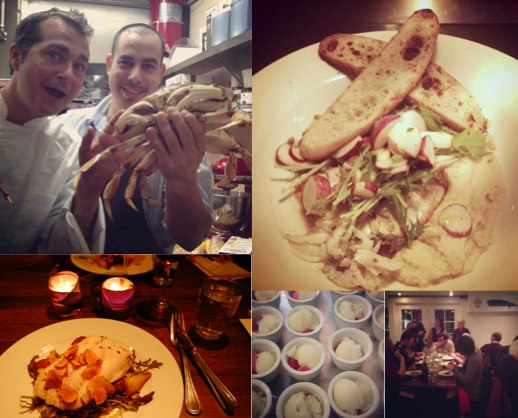 On the evening of Sunday, December 16, approximately 50 people – about half of them LCMB members – gathered at La Balena in Carmel to sample several courses of artfully prepared local fish. Dishes included white sea bass sausage over persimmon salad, sablefish in a proseco sauce, and Dungeness crab served over a sauce made from salted rockfish. It was wonderful to share this experience with our community, and we are thankful for everyone who made the event possible. As 2013 approaches, we look forward to hosting more events that will bring fishermen and seafood lovers together to celebrate the diversity of local seafood we are lucky to be able to enjoy.
This is our 46th distribution and the last share of 2012. Since January, we have grown from 140 members to over 370, making LCMB the largest CSF on the West Coast. Thus far, LCMB has delivered 7 weeks of Dungeness crab, 7 weeks of sablefish, 6 weeks of Chinook salmon, 4 weeks of rockfish, 4 weeks of sanddabs, 3 weeks of oysters, 3 weeks of albacore tuna, 2 weeks of abalone, 2 weeks of white seabass, 1 week of California halibut, 1 week of Pacific herring, 1 week of opah, 1 week of sardines, 1 week of spiny lobster, 1 week of Market squid, 1 week of swordfish, and 3 weeks of smoked fish (the full summary is here). Whether you have been with us since January or are a new member, we hope you have enjoyed the adventure that your participation has made possible.
This week we are offering Market squid. The boat we were planning to buy sablefish from this week came in early with a smaller-than-expected catch. We could have supplemented their sablefish with some sablefish from Northern California, but then we considered that we have already had a good number of sablefish shares, and only one week of some other species. Market squid remains the state's largest and most lucrative commercial fishery, valued at over $69 million in 2011 – yet we were only able to bring you squid one week thus far this year. The Department of Fish and Game closed the fishery for Market squid on November 21 (as the statewide quota of 118,000 short tons of squid was approaching), and the fishery will remain closed until April 1. The other time we offered squid, it was whole and everyone had to clean it themselves. While some enjoyed the cleaning ritual (see video below), not everyone did. We are fortunate to have a large local processing facility available at Monterey Fish Co. in Salinas, where much of our locally landed squid and sardines go for processing. While much of the squid they handle is exported, they process some squid locally. The squid you will receive were caught by Monterey and Moss Landing boats, and are in the form of tenderized tubes, a premium local product that is delicious and easy to cook. Small shares will receive roughly 2 lbs of squid tubes, all of it ready for your pan. Check out some great videos on squid fishing and cooking, explore our recipes, and learn more about squid by following the links below.
Please remember that your next scheduled share after 12/18 will be on 1/8. Have a wonderful holiday season!
Caught by: A combination of different Monterey Bay purse seine boats in October/November
Processed by: Monterey Fish Company in Salinas
Landed in: Monterey and Moss Landing
Bagged: Monday night 12/17 by Greg
Coolers packed: Tuesday by Oren and Alan
Fillets shares vs. Whole fish shares:
fillet preference: squid tubes
whole fish preference: squid tubes
What to take:
small shares: 1 bag of about 2 lbs
family shares: 2 bags of about 2 lbs per bag
Eat by: Squid can be fairly perishable. Eat by Wednesday, or freeze.
Links:
about Market squid:
-Our Market squid species profile
-Learn more about Market squid life history on this page or look at Monterey squid scientist Dr. Louis Zeidberg's underwater photos of squid on this page.
about Market squid fishing:
-Market squid are caught by purse seining. Click here to learn more about pros and cons of this fishing method.
-A squid fisherman in Moss Landing describes how the fishery operates in this videoproduced by the Monterey County Weekly
-This excellent video (you may or may not like the music) was filmed from a squid boat off of Cannery Row, with both daytime and nighttime footage. Get an inside look at life aboard a purse seiner – this 2010 video includes footage of fishing legend "Uncle" Joe Davi, who passed shortly after the footage was shot.
about Market squid preparation:
-Eight excellent Market squid recipes on the LCMB website.
-A recipe suggestion from a member is here. Add yours!
-LCMB cooking demonstration video: Santa Cruz Chef Marisa Johnston of By Marisashows you how to make a Grilled Calamari Olivera Salad.
-LCMB families prepared a video showing their calamari feast created with pooled shares of squid. The video also includes footage of squid unloading in Monterey - check it out here!
-Please share your squid experience on our Facebook page or on the "Squid" section of our Member's Forum.
Happy Holidays!
Oren and Alan