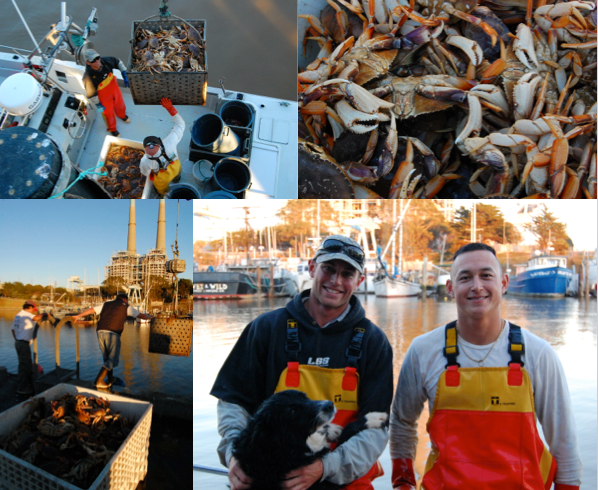 We're pleased to announce our first share of Dungeness crab of the 2012-2013 season! This is the first time we have been able to make crab available to all LCMB members since the 2011-2012 season closed in June. Crabbers in Half Moon Bay, San Francisco, and Bodega Bay are on strike, making it a seller's market right now – Dungeness is in short supply and the price is high. This email is coming to you slightly later than usual since an hour ago (4:30 pm Monday) we were still at the dock in Moss Landing buying 782 lbs of freshly landed crab from Calder Deyerle and Justin Riddleberger, who were out crabbing on this beautiful clear day, in between Moss Landing and Santa Cruz. While these guys have traps as far out as 13 miles, on average they caught their crab about 5 miles out. The other half of this weeks's crab was landed on Sunday and earlier Monday in Santa Cruz.
The next few hours (Monday night) will involve cooking, halving, cleaning, and bagging your crabs. We think there will be enough for 2 crabs per small share, but as a caveat we'll say that it's conceivable that some bags could have 1.5 crabs. It takes some work to get crab to you, and we hope you will enjoy the rewards! Please see below for all the details of what you will be receiving. New this week is a cooking demo from LCMB member and Otter 501 star Katie Pofahl. Find this, and much more, by following the links below, and use these resources to make the most of your own personal crabfest! Finally, depending on your email provider, you may notice that starting this week our newsletter will now trigger a Calendar event – if you haven't already, take this opportunity to enter your LCMB pickup as a recurring event on your online Calendar.
Caught by: Calder Deyerle, Justin Riddleberger, Scott Rouhier, Scott and Kevin of the F/V Ticon
When caught: Sunday 12/9 and Monday 12/10
Landed in: Moss Landing and Santa Cruz
Cooked, cracked and cleaned:: Monday night 12/10
Coolers packed: Tuesday by Oren and Alan
Fillets shares vs. Whole fish shares:
fillet preference: cooked and cleaned crab
whole fish preference: cooked and cleaned crab
What to take:
small shares: 1 bag (contains 2 crabs)
family shares: 2 bags (each bag contains 2 crabs)
Eat by: Friday
Links:
about Dungeness crabs:
-Our dungeness crab species profile
-Did you know that only male dungeness crabs over 6.5″ shell width are allowed to be landed in California? Female dungeness crabs can lay up to 2.5 million eggs over a 6 year lifespan! Learn more about their biology and life history here.
about Dungeness crab fishing:
-Dungeness crab are caught with traps/pots. Click here to learn more about pros and cons of this fishing method
-Here's a summary of California Dungeness crab fishery landings from 1915-2012
-LCMB exclusive VIDEO: Fisherman Christian Zajac explains crab traps; crab is unloaded from John Hulliger's boat
about Dungeness crab preparation:
-14 Awesome dungeness crab recipes on the LCMB website.
-Prep suggestions from other members are here. Add yours!
-LCMB video cooking demo: Dungeness Crab with Wine and Butter
-NEW LCMB video: Member and Otter 501 moviestar Katie Pofahl walk you through cooking a Cromellete!
-Tips:
-Be sure to eat all the yummy meat from within the body, not just the meat in the legs!
-Use a crab claw as a tool to pick out the body meat from the cartilage "dividers."
-Leftover crab is delicious in a Cromellete
-Please share your crab experience on our Facebook page or on the "Dungeness crab" section of ourMember's Forum.
Enjoy your Local Catch Tuesday!
Oren and Alan
><((((º>`·.¸¸.·´¯`·.¸.·´¯`·…¸><((((º> ><((((º>`·.¸¸.·´¯`·.¸.·´¯`·…¸><((((º> ><((((º>`·.¸¸.·´¯`·.¸.·´¯`·…¸><((((º> ><((((º>`·.¸¸.·´¯`·.¸.·´¯`·…¸><((((º> ><((((º>`·.¸¸.·´¯
Limited 8pm Seats Remain for Savor the Local Catch Pop-Up Dinner
'Tis the season to savor seafood – let us cook it for you this time! Please join us for a night of local food and revelry at Carmel's newest restaurant, La Balena. Since it opened last week, La Balena has been very enthusiastically received – and this is a fantastic opportunity to check what their culinary team can do with local seafood. Talented chefs Salvatore Panzuto and Brad Briske will cook up two different types of seafood supplied by LCMB! Their multi-course meal will also feature seasonal organic vegetables sourced by Savor the Local and will be paired with Monterey County wines. LCMB members should not miss this! The event is open to the public, so please help us get the word out by sharing this Facebook event. However, tickets must be purchased in advance by following the link below (the link to buy tickets is also on the Facebook event page). Purchase soon: 5pm is sold out, 9 seats remain for 8pm.
What: Savor the Local Catch of Monterey Bay Pop-Up Dinner ($75 per person plus tax)
When: December 16. Two seatings: 5-7:30pm or 8-10:30pm.
Where: La Balena. Junipero, just north of 6th Street (on the ocean side of the street), Carmel-by-the-Sea.
How: Reserve and buy tickets online. Call for information (831) 708-8315.
Local Catch Webstore is Open!
LCMB T-shirts are extremely attractive, fair trade shirts that are produced in the USA. They are now available for $22 – and they make great gifts for your fish-loving family and friends. Your order helps us to provide our regular fishermen with free Local Catch hoodies. Also on the Web Store, you can order an extra share of tomorrow's fish, live abalone, cedar planks, a new LCMB bag, a piece of fisherman Chris Zajac's art or original shirts, or an awesome LCMB hoodie (size Medium only) to accompany your share! Access the Webstore by logging in to your account and then clicking on the words "Web Store" in the upper right corner. Orders must be placed by 9pm Monday to receive the following day. You should receive a confirmation email with the successful completion of an order, and your Local Catch account balance will be debited accordingly at the time of delivery.
Sandabs Restaurant Re-Opens!
After a closure of several months for a re-do, LCMB fish guru Greg Young and his wife Edyte have re-opened Sandabs Restaurant in Scotts Valley. Sandabs will be open for dinner on Thursday, Friday, and Saturday nights. Their specialty, of course, is fresh local seafood. They're at 11 Camp Evers Lane. Stop by and check them out!
Holiday Break
Both Christmas and New Year's Day fall on Tuesdays. We hope no one's too disappointed, but you are going to have to endure a Local Catch-less Christmas and New Year's this year, because we are going to take a two week break. The last share in December will be on Tuesday the 18th, and we will resume with deliveries on January 8th. Of course, no one will be charged for those weeks and your balance will be waiting for you come January 8th. Advance Happy Holiday season!
Reminders – Many Ways to Participate
1. If you don't want your share (or would like an extra), you can place a posting on our Buy/Sell/Swapdiscussion topic and make arrangements with other members. If you do this, be sure to provide some kind of contact info so others can get in touch with you.
2. Send us a new recipe, broken down into steps and with a photo you've taken, and we'll credit your account $5.
3. Refer a new member, and receive a $20 referral credit. Make sure the new member gives us your name after they sign up.
4. Need some new seafood preparation ideas? Meet other LCMB members and share a meal by posting on this discussion topic.