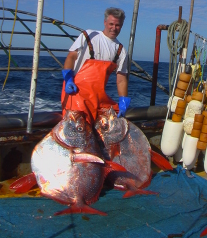 Get ready… this week you are going to get to try a fish you may not have even realized was found in our local waters! Opah are a striking, far-out looking fish that are best known as being native to the waters of Hawaii, where they are also known as Moonfish, Kingfish or Sunfish. However, opah are found throughout the world's oceans, and locally they are almost exclusively caught as bycatch in our swordfish fishery – eating bycatch makes an awful lot of sense, ecologically and economically (especially when it's this delicious). Opah resembles an enormous silver-blue and rose hued sphere with white spots and crimson fins, tail and snout. Growing to an average of 3 feet in size, Opah's meat is firm, mild flavored and pink to red in color. It's rich with fish oil, and a good source of protein, B vitamins, phosphorus and selenium.
This week's opah was caught by Wayne Magellan of the F/V Magellan, fishing less than 40 miles from shore between Monterey and San Francisco. Wayne is a long liner, and uses bird and turtle avoidance techniques including circle hooks, pingers and blue bait (sardines). A NOAA observer is also on board his vessel at all times to monitor fishing and bycatch. Shares for all sites this week will be packed in waxed butcher paper. You may want to bring a reused bag from a previous week to place your share into. Check out our links below for recipes and more information on this exciting species.
Contest: Send us your best drawing of an opah! See the photos on our links below to get a good idea of what this fish looks like. Winner will receive a Local Catch T-shirt and have their drawing posted on our website. Kid entries encouraged

Caught by: Wayne Magellan
Landed in: San Francisco
Picked up: Saturday 11/10
Filleted and bagged: Monday by Greg Young
Coolers packed: Tuesday AM, by Alan and Oren
Fillets shares vs. Whole fish shares: Opah are big – fillet shares for all this week.
What to take:
small shares: 1 paper package
family shares: 2 paper packages
For best taste, eat by: Thursday
Links:
about Opah:
-Did you know: opah can reach up to 200 lbs, although most average about 100 lbs
-Our opah species profile
-On October 31, Monterey Bay Whale Watch witnessed killer whales feeding on opah 8 miles off Point Pinos. Check out the story and photos!
-This article from the San Diego Union Tribune discusses opah sightings and research off southern California.
-Want to learn about research on cranial endothermy in opah??? Here you go!
about Opah fishing:
-This week's opah was caught by longline. Click here to read more about the pros and cons of this method
-Here's a July 2012 article from Salt Water Sportsman on fishing for opah off California – check out the photo! 
about Opah preparation:
-Opah has a dense, moist flesh and a medium, slightly rich flavor and is often eaten raw, broiled or smoked as well as steamed or poached, grilled, sauteed and baked.
-Delicious opah recipes on the LCMB website
-Please share your opah experience on our Facebook page or on the "Opah" section of our Member's Forum.