We are pleased to announce that once again the dynamic duo of Stan Bruno and Scott Rouhier went fishing for sanddabs off of Moss Landing and caught some tasty treats for most of you. Although we thought there might be Humboldt squid for eating as well, they ended up landing only a few squid. Humboldt squid tend to have a bitter taste to them, and Greg Young is researching ways to eliminate the bitter taste by soaking them in a solution of diluted lactic acid and citric acid, a technique the Chileans have perfected. Stan and Scott did well, but did not catch quite enough for everyone. Thus, we also purchased white seabass caught by Brett Shaw and Robert Bowen. The way the numbers worked out, Monterey and sites north will receive sanddabs tomorrow, while our three southern most sites south will receive white seabass. There is a difference between whole fish and fillet share types for most members this week. More information follows – please refer to the appropriate content for your pickup site. 
><((((º>`·.¸¸.·´¯`·.¸.·´¯`·…¸><((((º> ><((((º>`·.¸¸.·´¯`·.¸.·´¯`·…¸><((((º> ><((((º>`·.¸¸.·´¯`·.¸.·´¯`·…¸><((((º> ><((((º>`·.¸¸.·´¯`·.¸.·´¯`·…¸><((((º> ><((((º>`·.¸¸.·´¯`·.¸
Pacific Sanddabs
(for Boulder Creek, Ben Lomond, Scotts Valley, Santa Cruz (Food Bin, SCMB, and Point Market), Aptos, Watsonville, Moss Landing, Salinas, CSUMB, Sand City, and Monterey)


Caught by: Stan Bruno and Scott Rouhier
Landed in: Santa Cruz
When landed: Friday, Saturday, and Sunday
Filleted and bagged: Monday by Greg Young
Coolers packed: Tuesday AM, by Alan and Oren
Fillets shares vs. Whole fish shares:
Fillet shares: Headed and gutted "pan-dressed" sand dabs;
Whole fish shares: Whole sand dabs. **Whole fish shares only will be labeled with member names – please be sure to take the right type of share.**
What to take: small shares: 1 bag; family shares: 2 bags.
For best taste, eat by: Sanddabs should be eaten fairly soon. We suggest you eat them by Thursday night, or otherwise freeze them. Whole fish shares should be cleaned on Tuesday.
Your sanddabs were caught the slow way, with rod and reel. Sanddabs are a rich fish with a buttery, nutty flavor and a texture that is moist yet firm.There WILL BE a difference between "fillet" and "whole fish" shares this week. Sanddabs are too small to easily fillet, so for "fillet" shares Greg has pan-dressed them for you by heading and gutting them. "Whole fish" shares will be just that – whole – use the pictorial demonstrations in the links section below to head and gut them yourself. Do not try to make fillets – stick with heading and gutting and cook them in that "pan-dressed" state. We've included a new recipe this week, for Herb Seared Sanddabs with Warmed Arugula and Fire Roasted Tomato Salad – don't miss it.
Links:
about Pacific sand dabs:
-Our Pacific sanddab species profile
-Learn more about the species from this CA Department of Fish and Gameflier
Pacific sand dab fishing:
-Fisherman profile for Stan Bruno
-A typical day video of fishing for sanddabs with Greg Young
-This week's Pacific sanddabs were caught by rod and reel. Click here to read more about the pros and cons of this method.
Pacific sand dab preparation:
-Seven delicious sanddab recipes on the LCMB website
-Another sanddab recipe submitted by a member
-Fillet preference: Pan-dressed sanddabs are headed and gutted, with the bones left inside and the scales and tail left on. Sanddab scales are soft and do not need to be removed prior to cooking. The bones are also left in until after cooking as they add flavor to the meat and are more easily removed from the cooked fish. Filleting these wee fish leads to too much waste. Believe us, pan-ready is the way to go. You should gradually remove the cooked meat from the bone with your fork as you eat. You can slide your fork in between the meat and the back bone and lift the meat away as you go. The skin can be very delicious, but will pull easily away from the meat if you are not a fish skin fan.
-Whole fish preference: You will receive whole sanddabs. Filleting a sand dab is tricky due to its small size and is not recommended. Instead, we suggest that you "pan dress" them by simply heading and gutting them. Please refer to the following tutorials: pictorial lesson #1 OR lesson #2. This is a pretty simple and fun process – enjoy.
-Please share your sand dab experience on our Facebook page or on the "Sand dab" section of our Member's Forum.
><((((º>`·.¸¸.·´¯`·.¸.·´¯`·…¸><((((º> ><((((º>`·.¸¸.·´¯`·.¸.·´¯`·…¸><((((º> ><((((º>`·.¸¸.·´¯`·.¸.·´¯`·…¸><((((º> ><((((º>`·.¸¸.·´¯`·.¸.·´¯`·…¸><((((º> ><((((º>`·.¸¸.·´¯
White Seabass
(for Carmel Valley, Carmel, and Pacific Grove)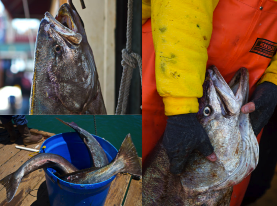 Caught by: Brett Shaw and Robert Bowen
Landed in: Santa Cruz
When landed: Sunday
Filleted and bagged: Monday by Greg Young
Coolers packed: Tuesday AM, by Oren and Alan
Fillets shares vs. Whole fish shares: White sea bass are big fish! Everyone will receive fillets.
What to take: Small shares: 1 bag; Family shares: 2 bags
For best taste, eat by: Friday. If need be, white seabass freezes well.
We are lucky to have a healthy fishery for California white seabass in our local waters. Don't confuse these fish with "Chilean seabass" (which is actually a toothfish and overfished in Antarctic waters). Our local white seabass are not technically a bass at all and are a member of the drum (aka croaker) family. By the early 1980s poor management had led to overfishing, but thanks to a successful hatchery program and regulations that prevent the take of individuals too young to have spawned, the fishery is now thriving, with the season running from June to March. White seabass often weigh over 20 lbs and are a beautiful fish. You will find white seabass to be firm, meaty, juicy, and succulent with a rich, sweet flavor.
Links:
about white seabass:
-Our white seabass species profile
-Did you know that the largest white seabass caught on record weighed over 90 lbs!? Croakers/drums earned their name because they produce a distinctive drumming sound. Learn more by downloading a reader-friendly CA Dept. of Fish and Game brochure about white seabass here.
about white seabass fishing:
-Fisherman profile for Brett Shaw
-Our white seabass are caught in small quantities with rod and reel on small boats. Squid are the most common bait used. Click here to read more about the pros and cons of this method.
about white seabass preparation:
-White seabass is a firm meat that does great on any kind of grill as it won't fall apart. Alternatively, pan sear or bake it.
-Check out the 9 tempting white seabass recipes on the LCMB website. From escabeche to tacos, we have ideas to suit your level of ambition.
-Local Catch members have shared a couple of their own white seabass recipes on our forum
-Please share your white seabass experience with other members on ourFacebook page or share your recipes and ideas on the Member's Forum
><((((º>`·.¸¸.·´¯`·.¸.·´¯`·…¸><((((º> ><((((º>`·.¸¸.·´¯`·.¸.·´¯`·…¸><((((º> ><((((º>`·.¸¸.·´¯`·.¸.·´¯`·…¸><((((º> ><((((º>`·.¸¸.·´¯`·.¸.·´¯`·…¸><((((º> ><((((º>`·.¸¸.·´¯
Enjoy your Local Catch Tuesday!
-Alan and Oren